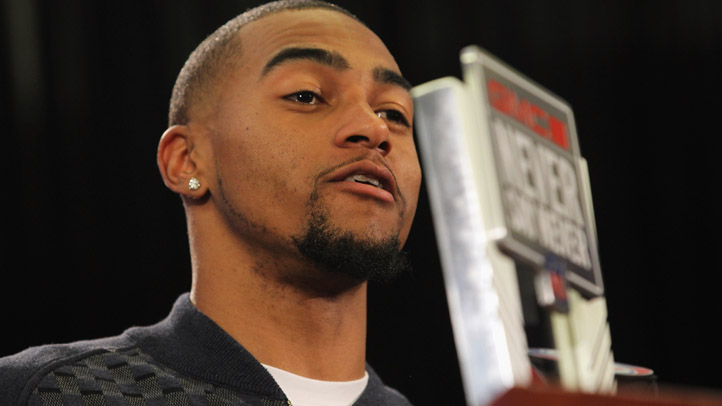 The simple answer to the question in the headline is yes!
DeSean Jackson making just over half a million dollars means that he is grossly underpaid in the grand scheme of NFL salaries. Entering his fourth season in the NFL the Eagles star wideout already has two 1,000 yard seasons and has been named to back-to-back Pro Bowls.
He is arguably the most dangerous weapon on the Eagles roster despite being one of the smallest at 5-foot-10, 174 pounds. The 24-year-old's career 18.2 yards per reception is second best amongst active receivers (ahead of long-threat legends like Santonio Holmes and Randy Moss) and he has averaged a combined eight touchdowns a season for the Eagles.
Add in the fact that Jackson has become a star in the league making appearance on everything from The View to the ESPYs to Funny or Die's Field of Dreams 2 and you can't argue Jackson's value far outweighs his salary.
So he should hold out of training camp to force the Birds into giving him a generous pay raise, right?
Well not really. Things are a bit more complicated in this case.
The current Eagles brass has never broken down and met the demands of a holdout -- just ask Terrell Owens. But when players show up they seem to get rewarded like Brian Westbrook and Brian Dawkins did in the past.
Jackson being represented by controversial super-agent Drew Rosenhaus could also be throwing a wrinkle into this situation. I'll let Sports Final's Howard Eskin take it from here.
"Jackson wants his money -- having Rosenhaus as his agent makes it more difficult to get DJax in camp. (Rosenhaus) fills (DeSean)'s head with BIG numbers. I hear he is looking for $60 Million for five years. This will not be pretty."
What also isn't pretty is that after four-plus months of an NFL lockout teams have to quickly get players back into the fold, learning plays and readjusting to playing together. DeSean might be buddy, buddy with QB Michael Vick and RB LeSean McCoy but friendship can only take you so far when it comes to timing -- especially considering the type of end-arounds and quick outs the Birds run specifically to get the ball into DeSean's hands.
I would love to see DeSean get some financial security now considering that at his size the likelihood of him having a long career seems unlikely.
If I were a betting man I would bet that Jackson will come to camp sometime late next week and eventually sign an extension some time during the preseason. This would give the Birds time to sign free agents and see what's left to make DeSean happy. And it would also prove this whole hold out fiasco as futile.