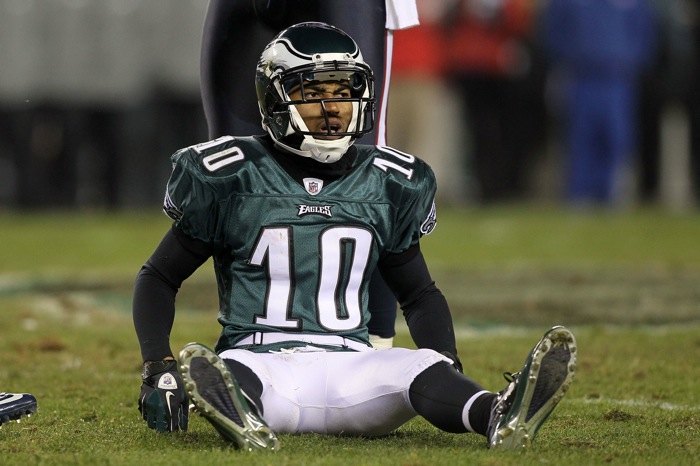 DeSean Jackson, the Eagles star Pro Bowl wide receiver, watched from the sidelines at the end of the 38-20 loss to the Patriots. While his teammates rallied for a futile attempt to save a shred of dignity, arguably the Eagles biggest weapon sat on the bench.
Coach Andy Reid didn't say it in so many words, but Jackson was outright benched.
Despite being targeted 10 times during the game and catching a 44-yard bomb from Vince Young in the first quarter, D-Jax dropped at least three other potential big gains, including two would-be touchdowns.
"As a player, you're upset when you drop passes like I did tonight," Jackson said. "Sometimes you have a bad game, and tonight definitely wasn't my best game. There were a couple of plays I thought I should have made, but I didn't. I know I'm a better receiver than that."
He continued: "Regardless of what happens, the dropped balls and all, it's not like it's happening on purpose. Everybody has things that they have to go through in life, right now this [contract situation] is what I'm going through to better myself. I will be alright."
Reid said he "just wanted to give the other guys the opportunity," but obviously he wouldn't have elected to have his biggest passing threat sitting on the bench without good reason.
"[The benching] was a decision that was made," said Jackson. "As a player, I just have to live with it -- it happened -- and I have to keep coming to work, give my best effort and play hard. Come next week I'm going to make those plays."
Unfortunately for Jackson, even if he catches those balls next week, they won't help the Eagles make it to the playoffs. They've already effectively knocked themselves out of contention as they head for a Thursday night showdown against the equally as feeble 4-7 Seahawks.