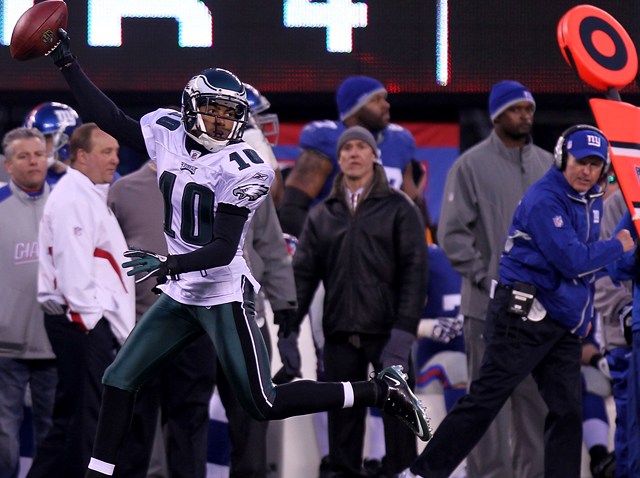 What a week for Philly!
The tax cut bill passed and is now law. Local bridge tolls won't rise until July. And, oh yes, there's the sports world.
Sunday's eye-popping Eagles comeback win at New Meadowlands Stadium leaves me reaching for adjectives. So, I might as well give you the quotes that count.
Eagles punt returner DeSean Jackson: "I was thinking to myself like, 'they're not going to kick it to me'... I just used my instincts and my speed to get into the end zone."
Giants rookie punter Matt Dodge: "You can't give the most explosive returner in the game a line drive in a situation like that."
Eagles quarterback Michael Vick: "By far, this is one of the greatest comebacks of my career, being down by such a huge deficit."
Giants head coach Tom Coughlin: "It's about as empty as you get to feel in this business."
Eagles head coach Andy Reid: "This is a special one, this is exciting, a great day to be a Philadelphia writer."
Right (write) on, Andy!
What the Eagles did during a curious and furious final 7:29 against the New York Football Giants was akin to an aspiring sculptor chiseling away at an accidental masterpiece.
Beneath all that rough-hewn outer marble lay a huge divisional victory, and the schematic to the N.F.C. East title and a first-round playoff bye. Yeah, the Eagles are a young bunch, but even they could use a week off. Just ask their hardscrabble defense, now riddled with season-ending injuries.
Not to slight Vick, Jackson, and kicker David Akers (who executed one of the best onside kicks you'll ever see), but the Eagles defense should get big time props. Already aligned without linebacker Stewart Bradley and defensive end Brandon Graham, and playing with a barely fit Asante Samuel, the Birds "D" took a first half hit when rookie safety Nate Allen ruptured a right knee tendon. It was no wonder the Giants ran up leads of 24-3 and 31-10.
New York quarterback Eli Manning was having quite a day for himself and the G-Men's defense was pinching Eagles receivers to the point of frustration. Vick managed a long touchdown toss to tight end Brent Celek, but that was too little too late.

Or, so it seemed.

The onside kick, the play that changed everything, was OKed by Reid, nailed perfectly by Akers, and corralled by Riley Cooper. From there, the Eagles comeback unfolded like a dew-covered rose blooming in dreary December. It's understandable if before that kick Eagles fans sitting at home or in sports bars headed for the restrooms or parking lots. Even if they could see the future, few would have believed it. Jackson's fabulous 64-yard return (and requisite 1-yard "skip to my lou" at the goal line) following Vick's latest heroics topped off "the week that was" in our neck of the woods.
Let's recap from last Sunday to this:
During this very special week, Philadelphia and environs IS the star in the east.
Merry Vickmas!