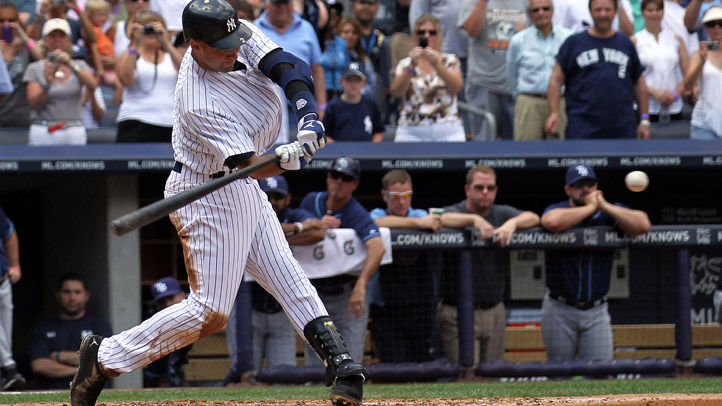 It's been quite the week for Derek Jeter. Not only did the future Hall of Famer get selected to his 12th All Star game, but, as you may have heard, he became the first New York Yankee to club his 3,000th career hit.
Needless to say, he's got an awful lot going for him.
However, it's not all smiles and rainbows for the 37-year-old who is taking quite a bit of flack for choosing to skip this year's All Star Game altogether despite being the leading vote-getter among American League shortstops. Now, it's not uncommon for players to skip out on the festivities in order to nurse some nagging injuries, which seems to be the case with Jeter, who returned from a calf injury not too long ago.
Phillies Shane Victorino and Placido Polanco are both injured but in Arizona after the fans voted them into the All-Star Game.
One person not too pleased with Jeter's decision is Phillies chairman Bill Giles who voiced his displeasure to the AP:
"I think it's too bad that Jeter in particular is not here, because of what he accomplished over the weekend,'' said Philadelphia Phillies chairman Bill Giles, referring to Jeter's 3,000th hit Saturday. "I think it is a bit of a problem and baseball should study it."

In part, it's understandable that Giles would be disappointed that Jeter won't be in Arizona, if only because of what he means to the game, especially in light of his 3,000th hit. If the All Star Game is a collection of the best players in the game, then it makes all the sense in the world for Jeter, who is viewed as one of baseball's "good guys," as well as one of the all-time greats, to be there, even if he didn't wish to play. I get that. And while it seems more and more that players would prefer to stay home rather than attend, I don't know that we need to do a case study on it.
By that same token, I also look at the All Star Game as a break in what is a very long season, and as such, I can't fault a player for wanting to use those three or four days as a bit of a mini-vacation. None of us can really grasp the the grind of a 162-game season that is not only a physical challenge, but a mental one, and those few days off can be worth their weight in gold, especially for players on the wrong side of 35 that recently dealt with injuries.
Would it have been cool for Jeter to show up? Sure, it would have, but it's not as if his presence would have made what is essentially an exhibition game more meaningful. There will be plenty of time to celebrate his career when he retires, and his contributions to the game are so vast and so far reaching that I think we can let the guy skip out without chiding him at every turn.