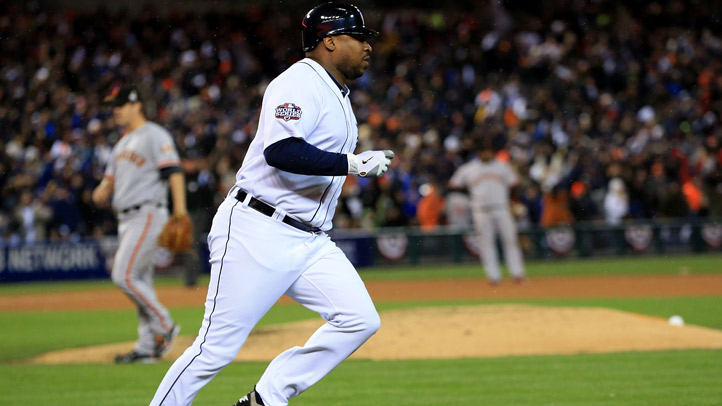 Wrestlers are known to go to all sorts of means to make weight just so they can wrestle in a match. Now, the newest member of the Phillies will need to do so just to get some extra money.
$600,000.
Delmon Young has some incentive to lay off the desserts: He can earn that amount based on keep his weight down this season.
Young's $750,000, one-year contract with the Philadelphia Phillies allows him to earn an additional $2.75 million in bonuses.
The deal for the AL championship series MVP, announced Tuesday, calls for him to get on a scale on six occasions to be chosen by the team. He'll receive $100,000 each time he makes weight, according to details obtained by The Associated Press.
The first three times, he must be 230 pounds or less, and the second three, 235 pounds or less.
As of Wednesday he was listed as 240 pounds on the Phillies website.
He appeared much skinnier already when he met with the press in the Phillies locker room Tuesday than when he played mostly DH for the Tigers last season. Only batting may have played a role in Young's weight gain in Detroit.
"When I knew I wasn't going to see the field, you can eat just a little bit extra," Young told reporters Tuesday. "I've been on a strict diet. You can get carried away on clubhouse food and late-night room service. Some ice cream and good-luck cakes. But when you go back to the outfield, you have got to eat lighter."
Young also would earn a $250,000 bonus for being on the active roster for one day, and $100,000 each for 40, 80, 120 and 160 days.
He can earn $1.5 million in performance bonuses: $150,000 each for 250, 300, 350 and 400 plate appearances; $200,000 apiece for 450 and 500; and $250,000 each for 550 and 600.
Copyright AP - Associated Press