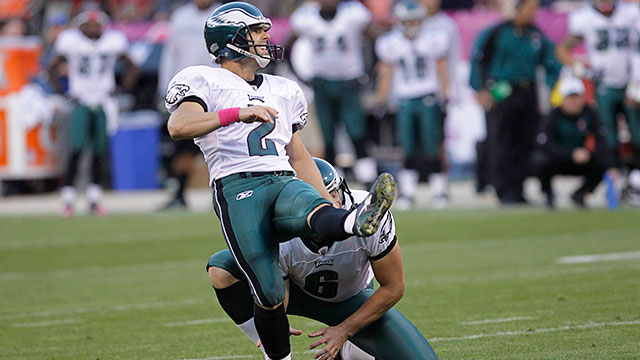 Kicker David Akers, who played in more games and scored more points than anybody in Eagles history, will be inducted into the Eagles Hall of Fame at halftime of the Eagles-Redskins game on Oct. 23 at the Linc.
Akers spent the 1999 through 2010 seasons with the Eagles and played in 188 games, breaking the franchise record of his longtime teammate and close friend Brian Dawkins, who played in 183 from 1996 through 2008.
Akers scored a franchise-record 1,323 points as an Eagle - nobody else has scored more than 900. He's one of four Eagles to play in all 10 playoff wins over the last 20 years, along with Dawkins, Tra Thomas and Jon Runyan. Those four played in more than half of the postseason wins in Eagles history (10 of 19).
"David Akers embodies everything we look for in a player both on and off the field," Eagles owner Jeff Lurie said. "He was talented, reliable, tough, and of course, clutch.
"He played a major role in the success of this franchise during his time here, but he also loved this city and our fans and he made a tremendous impact in the community. We are proud to enshrine him alongside the greatest figures in Eagles history."
Akers, who retired following the 2013 season after 12 years with the Eagles, two years with the 49ers and one with the Lions, ranks 12th in NFL history with 1,721 total points and 11th with 386 total field goals.
He made 27 of 50 career attempts from 50 yards and beyond and made 81 percent of his attempts overall.
From 2001 through 2010, Akers made the Pro Bowl team five times. Only six players in Eagles history have made more Pro Bowls - Hall of Famers Chuck Badnarik, Reggie White and Pete Pihos, plus Dawkins, Jason Peters and Donovan McNabb.
Akers added a sixth Pro Bowl with the 49ers. His six total Pro Bowls is second most in NFL history by a kicker, one fewer than Morten Anderson made with the Saints and Falcons from 1985 through 1995.
Only 11 undrafted players in NFL history have made more Pro Bowls than Akers, and all but three are in the Pro Football Hall of Fame - Peters, Antonio Gates and Jay Hilgenberg.
Akers will become the 50th member of the Eagles Hall of Fame but the first kicker and also the first player whose primary role was on special teams.
Akers will also become the seventh coach or player from the Andy Reid Eagles that reached five NFC Championship Games and a Super Bowl from 2001 through 2008 to be inducted into the Eagles Hall of Fame, joining Dawkins, McNabb, Jeremiah Trotter, Troy Vincent and Brian Westbrook, plus legendary defensive coordinator Jim Johnson.
Copyright CSNPhily