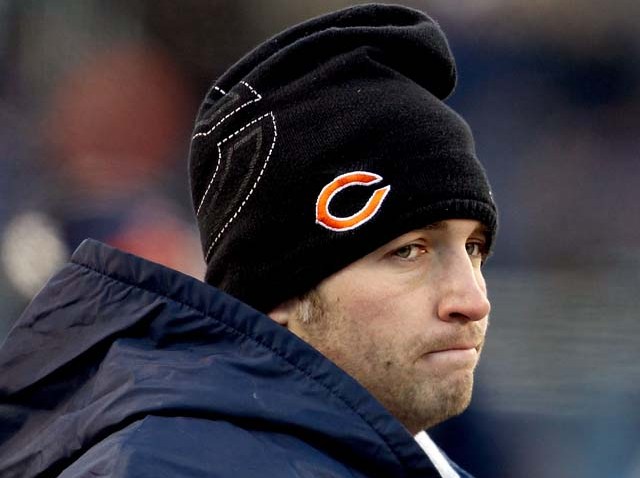 In the aftermath of the Bears losing to the Packers in the NFC title game yesterday, there were a great number of people who thought that Chicago quarterback Jay Cutler could have continued playing on his injured knee and was something less than a man for not limping back out on the field and finishing what he started. Well, to those people, Cutler can now say: EAT THIS MRI RESULT!
Chicago Bears quarterback Jay Cutler suffered a medial collateral ligament tear in Sunday's 21-14 loss to the Green Bay Packers, and the team is in the process of determining the grade of the injury, according to the Chicago Sun-Times on Monday.
You see that? A TEAR. Now leave poor Jay Cutler alone! Have you people no decency?!

In defense of Darnell Dockett, Mark Schlereth, Maurice Jones-Drew, and thousands of others who were quick to call Cutler a wimp or a wuss or a gutless fraud (my favorite!), it's important to note that Cutler, while legitimately injured, really didn't look all that jazzed about going back onto the field yesterday. I mean, did you see him on that exercise bike? Not the biggest effort in the world. Sure, his knee was snapped in half, but at least show me some PASSION when you're on that thing. Even LaDainian Tomlinson gives it more effort on the bike during playoff games.

I think that's the real issue with Jay Cutler in all this. It's not his toughness. It's not his ability. It's his demeanor.
There is no one in football who looks less enthused to be playing football than Jay Cutler. He looks like he'd rather be sewing bedsheets together. Now, this is not his fault. Some people are passionate but don't necessarily have the natural facial expressions to match up with that dedication. Perfectly understandable. You can't help how you LOOK. The problem is that Jay Cutler has a reputation for being something of a jerk, so when you combine that lousy reputation with a seeming lack of enthusiasm for getting back into the game, you suddenly have yourself a perfect storm of people declaring Cutler a coward and a loser. It's not particularly fair, and now Cutler has the MRI to prove it.

One thing's for sure out of all this, the next time Cutler tears a knee ligament, he's going to make sure to pull a Favre and do lots of staged grimacing. Learn from the master, young man. LEARN FROM THE MASTER.