It all happened so fast.

On Aug. 27, Sam Bradford played for the Eagles in a preseason game against the Jets. Seven days later, he was traded to the Vikings.

Seven days after that, he was on the sideline backing up Shaun Hill as the Vikings opened the season with a win over the Titans in Nashville.

And seven days after that, Bradford started for the Vikings against the Packers and threw two touchdowns in a 17-14 Minnesota win in Minneapolis.

Bradford comes full circle on Sunday when he leads the undefeated Vikings against the 3-2 Eagles at the Linc.

It's a fascinating matchup between Bradford and the team he spent training camp with.

"It's hard not to think about," Bradford said Wednesday. "If you would have asked me at the beginning of the year (about the Eagles-Vikings game), I would have thought I'd be on the other side of it.

"I still keep in touch with a lot of those guys and with us going back there it'll be a great chance for me to go back and see a lot of those guys and talk to them and just go back to Philly."

Bradford has been nothing shy of brilliant in his four starts for the Vikings, completing 70 percent of his passes for 248 yards per game with six touchdowns and no interceptions and a 109.7 passer rating.

He's the first quarterback in NFL history to reach this point of the season — going into Week 7 — having completed 70 percent of his passes with no interceptions and at least 100 pass attempts.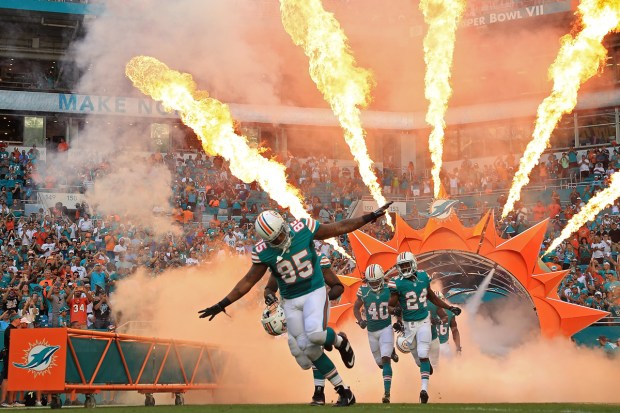 Top Images From the 2016-2017 NFL Season

His 109.7 passer rating is second highest in the NFL this year, behind only Matt Ryan.

Now he returns to Philly, where he went 7-7 last year in his first healthy season since 2012 with the Rams.

"It's been a whirlwind of emotions," Bradford told reporters covering the Vikings at their facility in Eden Prairie, Minnesota.

"I've probably felt a little bit of everything. The good news about the trade is that it happened so fast and we were already into the regular season that I didn't really have a lot of time to think about things. As soon as I got here, I was in the playbook, I was trying to get ready for Tennessee, trying to familiarize myself with this offense.

"I was obviously very excited for the opportunity that I was given here in Minnesota. I'm still excited about it. It's a great group of guys to be around in this locker room.

"At the same time, I think there's part of you that when you're around a certain group of guys for a year, a year and a half, and you're with them every day, you spend time with them and you develop relationships there, I think it's tough to leave some of those guys.

"As it happened just like that, without really getting a chance to say goodbye or play with them, it's been a whirlwind and I'm just trying to enjoy it day by day."

After beginning his career by winning just 18 of his first 51 starts, Bradford is now 11-5 in his last 16.

Different coach, different scheme, different teammates, but Bradford so far this year has really just continued what he did in the second half of last year, when he had 10 TDs and four INTs over the last four weeks of the season.

Bradford said he looks back fondly at his year and a half in Philly, even though it only amounted to a 7-7 record.

"It was a great experience," he said. "I know some people probably find that hard to believe but I think I learned a lot about myself as a person, as a player. There were some guys in that locker room I grew really close to. It was a fun group of guys to be around. I enjoyed it. It was something different.

"I never thought that I would live on the East Coast. I'm grateful for the time I spent in Philadelphia and the things that I learned while I was there."

Hard to believe seven weeks ago Bradford was preparing for the Eagles' season opener vs. the Browns, Carson Wentz was the Eagles' third-stringer behind Bradford and Chase Daniel, and Teddy Bridgewater was days away from starting his third year as the Vikings' starter.

Bradford knew his days in Philly were numbered this summer because of Wentz's presence, but he said he was still looking forward to the season.

"I was really excited about the year there," he said. "I felt like I had a really good spring. I felt like I played well in the preseason, I felt like things were really coming together on offense for us.

"When I signed back there, even during training camp, I really developed some close bonds with some of those guys on that team and I looked forward to playing this year there and continuing the chemistry we had built last year. So I was really excited about the year this year in Philadelphia."

When Bridgewater tore up his knee during a practice on Aug. 31, it never occurred to Bradford that he would soon be playing for his fourth head coach in three years.

"When I found out that Teddy got hurt, I [said] some prayers for him because I've been in his shoes and I know how tough it is to work in the offseason and to get prepared for the season and then not have the opportunity to go out there and play with your guys," Bradford said.

"As far as thinking I could end up here, it never crossed my mind."

But three days later, Bradford was on his way to Minneapolis in exchange for a first-round pick.

Wentz became the Eagles' starter and is off to a terrific start of his own for the Eagles.

The Vikings are the only unbeaten team in the NFL. Going back to the Eagles' last game last year, coached by Pat Shurmur, now one of Bradford's coaches, Bradford has won five straight starts for the first time in his career.

It will be bizarre seeing Bradford in a Vikings uniform at the Linc about two months after he played in a preseason game against the Buccaneers on the same field in an Eagles uniform.

But Bradford said he needs to focus on the game and the Eagles' defense and not the strange circumstances surrounding his return to Philly.

"My approach is just try to keep it as normal as possible this week," he said. "I think I owe it to all the guys in our locker room to not try to do anything special, not try to do anything extra.

"I think when you get caught up in everything that's going on outside the building, when you get caught up on things outside of football, that's when things can go wrong. So that's why I'm just trying to treat it like any other game."

This is really the first time Bradford has been on a good team.

The Vikings are allowing an NFL-low 12.6 points per game and have allowed just seven touchdowns all year and only three in the last three games.

"Fortunately, I don't have to play against those guys because they're playing great right now," he said. "They're probably playing some of the best defense in the NFL right now.

"It's a lot of fun to watch them on Sundays when they take the field because they play hard, they play physical, and they're just playing really well right now. And it's good to know we have those guys on our side."