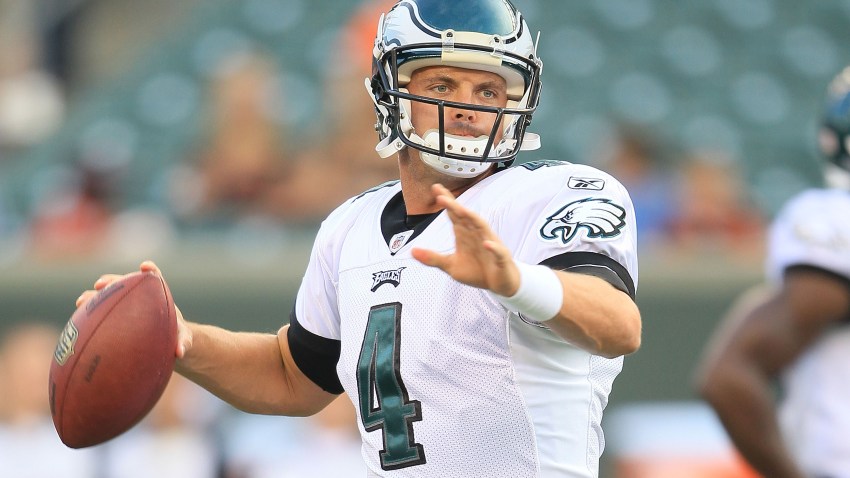 It's all well and good to jump on the Michael Vick bandwagon. He's one of the most exciting players in the history of the NFL and seems to have somehow improved as a quarterback while not starting a game in four years.
The overriding opinion seems to be in favor of Vick because he gives the Eagles a better chance to win now -- future consequences be damned. And while I do, in fact, worry about the team's offensive future if you delay Kolb's maturation for another year, let's put that aside for the moment.
Instead, let's focus on this: Why does everyone think Vick is a better option right now? Because Vick is playing so well, because he's exciting, because Kolb was uninspiring in his first start.
But how well is Vick really playing? He's certainly improved his completion percentage. It's up almost 10 percentage points from his career average. That's made him a tremendously better player than before. But a Super Bowl QB?
The one passing statistic that I showed a few weeks ago that correlated with Super Bowl appearances, Net Yards per Pass Attempt, doesn't typically account for the scrambling yards that add so much to Vick's value. However, we can adjust it for Vick to read: (Pass Yards + Rush/Scramble Yards - Sack Yards) / (Pass Attempts + Rush/Scramble Attempts + Sacks). That should represent pretty much all of his value.
Vick's career figure before this season was only 5.76 NYPA. That's significantly lower than the thirty year NFL average of 6.0 NYPA. Only six teams in the last three decades have made it to the Super Bowl with a Net Yards per Pass Attempt figure that low. We can conclude fairly easily then that young Vick was not a championship caliber quarterback.
So what about in 2010? The better completion percentage helps. For the season, Vick's now at 6.48 NYPA, better than the NFL average but below the average Super Bowl team's 6.7 NYPA. Respectable, but certainly not superstar caliber.
But looking at the numbers from weeks one and two inflates Vick's true value. He racked up huge yards in the first game against Green Bay when the Packers were completely unprepared to deal with his elusiveness. His NYPA in his first real start last week against Detroit was only 6.1 -- barely the NFL average. Put simply, the exciting runs make Vick a more valuable player than his passing stats alone would indicate, but with time to prepare, NFL teams can neutralize this advantage. And that doesn't even account for any falling back to Earth when Vick fails to maintain his perfect 3-0 touchdown to interception ratio.
If Vick, despite his rushing stats, is only average, Kolb would have to be a truly subpar quarterback to get benched. Yet there's really no proof that he's that bad.
Yes, Kolb played a terrible first half in the beginning of the season. But I'm not ready to bury him after that solitary performance.

As I noted a week ago, Kolb was sacked more per dropback in that game than Donovan McNabb in the 2007 Winston Justice-Osi Umenyiora debacle. Furthermore, he had a quarterback rating of 56.2. That's not good, but it's better than 17 of McNabb's starts over the course of his career as an Eagle. Too soon to call him horrible.
Plus, the most extended play we've seen from Kolb happened early last season, when he started two games. What was his NYPA then? Including his rushing stats to make it more fair in comparison to Vick, Kolb registered a 6.86 NYPA, higher than average for teams going to the Super Bowl, and significantly more than Vick has shown us in his brilliant revival.
Maybe Kolb will never be able to produce those numbers again. However, without giving him a fair chance to try (i.e. more than 30 minutes), the Eagles have limited themselves to an exciting, but ultimately average NFL offense. Kolb, for the present and future, still gives the Eagles the best chance to win a Super Bowl.