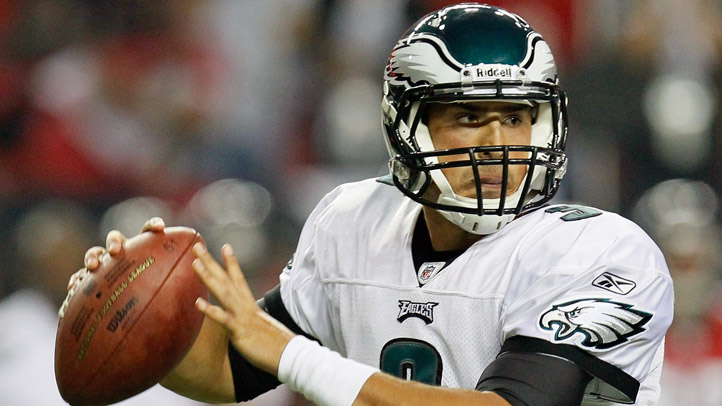 Last summer, Andy Reid felt confident enough in QB Mike Kafka to send Kevin Kolb to Arizona for Dominique Rodgers-Cromartie and a second-round pick. It was a bold move because despite Michael Vick's comments to the contrary, he is in fact injury prone. Which meant that there was a good chance Kafka would play.
By the time the 2011 season was over, the 2010 fourth-round pick out of Northwestern appeared in four games and completed 11 of 16 passes for 107 yards with 0 TDs and 1 INT.
Not great, but not bad either. Kafka entered training camp this year again behind Vick on the depth chart, even though the Eagles used a third-round pick on Arizona's Nick Foles. But Foles has had a fantastic preseason, every bit as noteworthy as the high-profile rookies set to start in Week 1 -- Andrew Luck, Robert Griffin III, Brandon Weeden and Russell Wilson. And Foles' opportunity came at the expense of Kafka, who broke his non-throwing hand in the Eagles' first preseason game and has been sidelined since.
Now that Foles' gaudy numbers have people taking notice (36 of 57 for 507 yards, 6 TDs, 2 INTs) what does this all mean not only for Kafka's position on the depth chart but his future in Philly? We'll know for certain this Friday when all NFL teams have to get down to 53 players but for the time being Kafka sounds unconcerned.
"I think you can go two ways," he said according to CSNPhilly.com's Geoff Mosher. "The way I approached it was learning as much as I could, and you can definitely get better by watching. So I worked on that and did that."
Kafka has finally returned to practice but it's unclear if he'll play in Thursday's preseason finale. With Foles' emergence and veteran long shot Trent Edwards also playing well, Kafka would probably like to get one more chance to prove himself.
"I can only control my opportunities I get today in practice," he said before Monday's workout. "That's the only way you can approach it, really."
The coaches will have just a handful of practices and one more preseason game to decide if Kafka returns for his third season or if suddenly he's the odd man out. Offensive coordinator Marty Mornhinweg admits that those discussions need to happen.
"That choice has not been made," he said. "We've got several different things to evaluate there. We've got practices coming up and the last preseason game as well. I certainly have great confidence in all of our quarterbacks to do all of the jobs that we would ask them to do -- backup and the No. 3. I have got great confidence in all of our quarterbacks to do that."
Put differently: if Vick misses time at any point this season, who would you want replacing him? Based on what we've in the last month, it would be hard to pick against Foles. And if Kafka ends up getting released he won't be out of work long. The NFL is a passing league woefully short on passers. Look no further than Arizona, an outfit in desperate need of some stability at quarterback despite the Kolb trade.