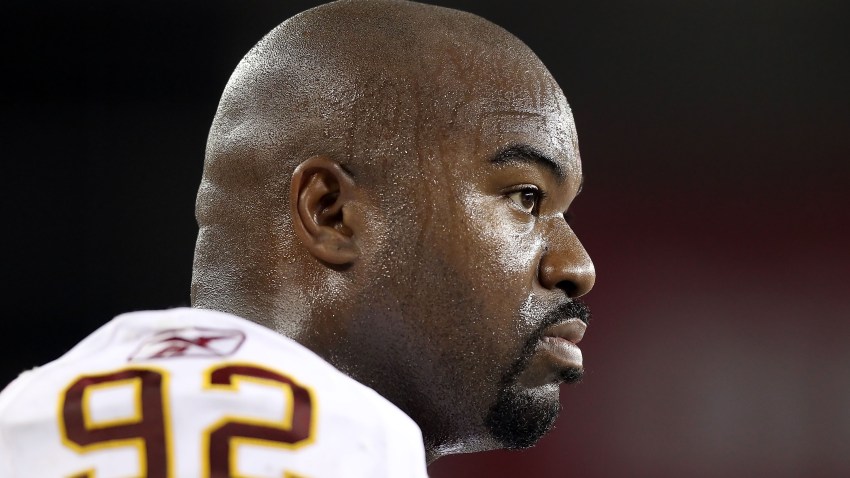 The Eagles have spent the last three years stocking the ranks with lots of young, respectable team players. They've drafted captains and All-Americans, guys who can represent the team proudly. They've also jettisoned a number of me-first malcontents with questionable work ethics, like Chris Clemons, Quentin Demps, and Shawn Andrews.
Yet, after praising this change, now fans everywhere are clamoring for the Eagles to grab one of the most notoriously selfish players in the NFL: Albert Haynesworth. Here's a guy who signed one of the richest contracts ever, and then refused to go earn it on the field. He's undoubtedly one of the most talented defensive linemen in the game, but has spent most of the last two years loafing it with the Redskins. Not to mention that even when he was productive in Tennessee, Big Al was still causing trouble.
I can see the allure of a player like Haynesworth. His disruptive abilities from the defensive tackle spot are perhaps unparalleled in today's NFL. And in theory DL Coach Jim Washburn knows how to get the most out of him. But doesn't he represent exactly the qualities that the Eagles have purposely avoided recently? If the team trades for or signs Haynesworth, they effectively wipe away the high standards they've set on personnel decisions.
In many ways, getting Haynesworth would remind me a lot of 2004, when the Eagles acquired Terrell Owens. TO was another player who was unhappy with his current team and wanted out. The Eagles scooped him up and his talent propelled the team to a Super Bowl appearance. He was the quintessential difference-maker, and I'd expect the same from Haynesworth. Pairing Big Al with Trent Cole might be the defensive equivalent of Owens and Brian Westbrook.
But at what cost? TO was happy for a year, then the sit-ups began and he helped torpedo the Super Bowl hopes of a team that he cared nothing about. I wonder how long Haynesworth would remain a happy Philly citizen, especially if they sign him relatively cheaply. I wonder how long he could stay out of trouble with the law and with the league office, given his long history.
In hindsight, TO wasn't a gamble. He was a sure thing — sure to be ticking time bomb. Is Big Al any different?