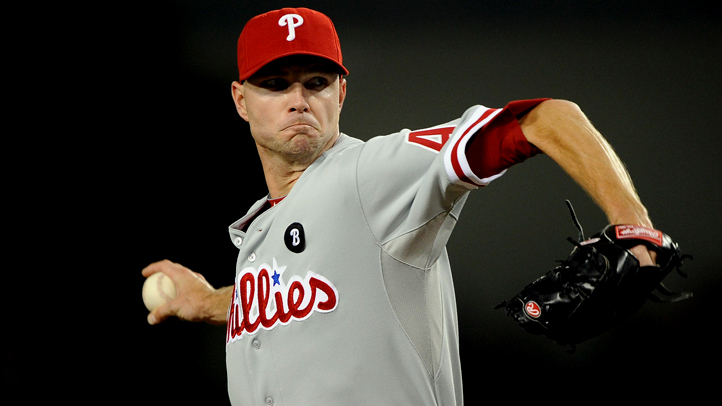 I'm not usually a fan of schadenfreude, but I can't say that I haven't enjoyed watching super-agent Scott Boras flail like a windsock this past winter, especially after his two biggest clients -- slugger Prince Fielder and reliever Ryan Madson -- have yet to find homes and seem to be without any significant offers.
Of course, I feel bad for Madson -- a favorite of mine from his years with the Phillies -- because it feels like he's had more doors slammed in his face this winter than a bad salesman. Maybe it's because teams are wising up and realizing that they shouldn't pay top dollar for closing pitchers (take note, Ruben Amaro, Jr.), or maybe they refuse to deal with Boras, who is notorious for putting together binders containing statistical analysis and the like in order to puff up his clients in order to squeeze every last dime out of the team that signs him.
But, alas, Madson has yet again been rejected. This time, by the Los Angeles Angels of Anaheim, who were all like "Hey man, we already need a closer. Why do we want him?" Seriously, they said that. Just ask Mike DiGiovanna of the L.A. Times.
"We're trying to add depth, and in a perfect world, we'd like to find another guy to join Jordan Walden, Scott Downs and LaTroy Hawkins to help with those last nine outs. But closer has never been the real priority."
I never really got why some people linked Madson to the Angels in the first place, but no matter, they don't need him, which effectively reduces his suitors to whatever Independent League team wants to make a fake offer as a publicity stunt to get some more ink in the dailies.
In seriousness, where can Madson turn? Of all 30 teams, only the Cincinnati Reds, New York Mets, Los Angeles Dodgers and Chicago White Sox don't have a "true closer" (whatever that means) but the odds that any of these teams would have any interest in Ryan is very, very remote, which leaves him almost zero options, unless he is willing to take less money or a diminished role -- which is precisely why he should return to the Phillies as the set-up man.
Now, this is a long-shot and a half, because some team is going to pay him to close, but there is absolutely no reason for Amaro not to try to bring Mad Dog back on a one-year deal, which would go a long way towards strengthening the bullpen while allowing Madson the opportunity to hit the open market next year, where his value would presumably not be diminished.
Again, it's likely not going to happen, but if you're Madson, why not go back to the well? He knows the team, he knows the catcher, he knows that he is going to win and, perhaps more importantly, he knows that his long-term, big-money contract isn't out there this year.