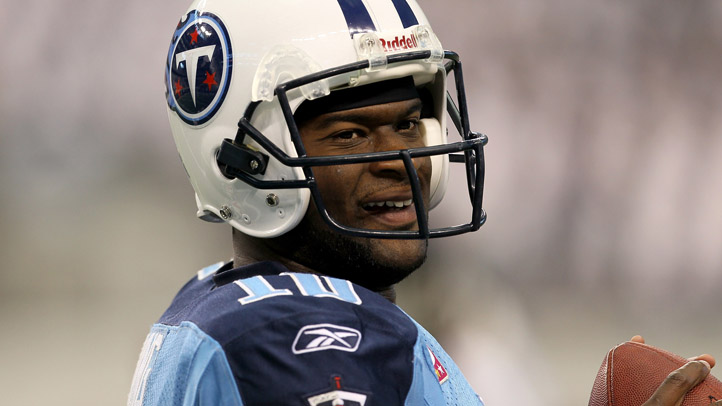 I have shocking news that will shake you to your very core. Turns out that Eagles backup quarterback Vince Young hasn't looked all that great in practice thus far. I know, I know, after being a weak-armed problem child in Tennessee, I thought VY was going to come in and totally blow the world up. BUT NO! NBC talking head and erstwhile flamingo Cris Colinsworth lays down the harsh truth:
"Vince Young has replaced Kevin Kolb as Vick's back-up and has not impressed. Young is one of those guys that looks much better in live action than practice (didn't I just write that about Tebow?), but most reports so far have not been kind about Young. Vick is a QB that will take hits and probably miss some time. Can Vince Young handle the glare of that spotlight in a tough town like Philly. Stay tuned."

Collinsworth also throws out the dreaded "Eagles are the Heat" connection that will make you wince every time you hear it this fall.

Of all the additions the Eagles made to this roster over the past few weeks, Young's has been both the most notable and the least consequential. Young isn't a very good player, nor he does he appear to WANT to be a very good player, which is much worse than his sucking in and of itself. He doesn't do much to improve the team, and the idea of him playing at all this season is terrifying because it will mean that Michael Vick is injured.

Collinsworth's assessment serves as a blunt reminder that this is, by no means, a perfect team. In fact, with Young as the backup now instead of Kevin Kolb, this is a team that can't afford to lose its starting quarterback, which is bad because Michael Vick is bound to miss a handful of games every year because of his steadfast refusal to slide or play with more caution for his health.

Despite adding the likes of Nnamdi and Ronnie and Cullen and everyone else, this is still a team that remains uncomfortably reliant on Vick's ability to stay healthy. If he can't, and Young has to take over, then suddenly those Heat comparisons will become apt for all the wrong reasons.