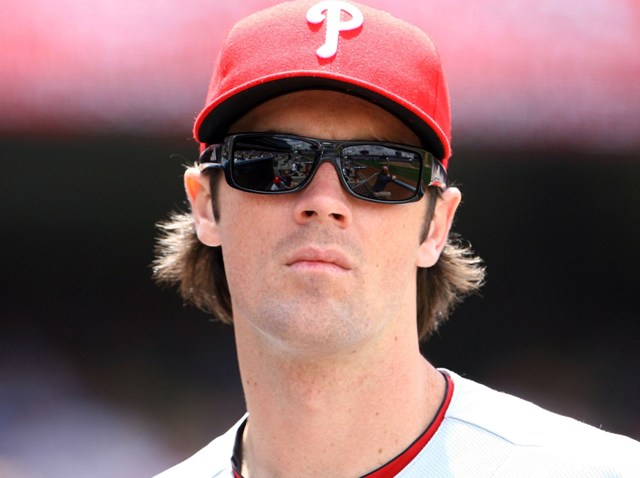 In my time as a blogger, I've spoken at length about my unconditional love for Cole Hamels. Whether it's his flowing hair, his laid-back attitude or his crushing change-up, I just can't get enough of the home-grown star who went from prospect-to-star right before our eyes.
Because of that, I am absolutely floored (and more than slightly perturbed) to hear that the Phillies are reportedly only pursuing a one-year deal with the lefty, who will be a free agent following the 2012 season, as per CSNPhilly.com's Jim Salisbury.
"We've had discussions with Cole," assistant general manager Scott Proefrock said during an appearance on Comcast SportsNet's Phillies Hot Stove on Tuesday night. "Right now, we're focused on a one-year deal."
This doesn't mean much, because, quite literally, anything can happen. If there is one thing that Ruben Amaro, Jr. and friends are good at it's misdirection and clandestine activity. And really, we shouldn't panic. Not, yet, anyway.
The Phillies still control Hamels for one more year and will have plenty of time to work out a long-term extension with the best home-grown pitching prospect in forever.
But, even though there is plenty of time left on the clock, the Phillies would be wise not to mess around. My buddy Paul, who is a great writer for Crashburn Alley, made this very salient point on Twitter: "Hamels even sniffs free agency and the Yankees are going to snap him up so fast it'll make your head spin."
It's true. And if it isn't the Yankees, it will be the Red Sox. And if it isn't the Red Sox, it will be the suddenly flush Washington Nationals. And if it isn't them, it will be someone else. Or everyone else. And why not? Since coming up in 2006, he's only struck out over 1,000 batters in 1,100 innings pitched with a 3.39 ERA, while practically delivering the first World Series to Philadelphia in nearly 30 years.
And to boot, he compares well to every other ace in the game. He's in the Top 10 in strikeouts, ERA, ERA+ and strikeouts per nine since his debut, and he figures to only climb the ranks as he goes along. In short: he's awesome.
If he is without a contract by this time next year, then you better believe that blood is going to be in the water -- it will be a feeding frenzy for the young (29!) left-hander. Point is, if the fans thought it was lousy when Cliff Lee was traded, this is going to be much worse, if for no other reason than it is entirely preventable -- and quite honestly -- I'm embarrassed that we are even having this conversation.
So, what should the Phillies do?
Quite frankly, whatever they have to. If it means having a third pitcher on staff with a $20-million salary, then so be it. The fact of the matter is that baseball is an arms race, and right now, the Phillies have in their possession one of the greatest weapons in the game.
By no means should they let it out of their hands.