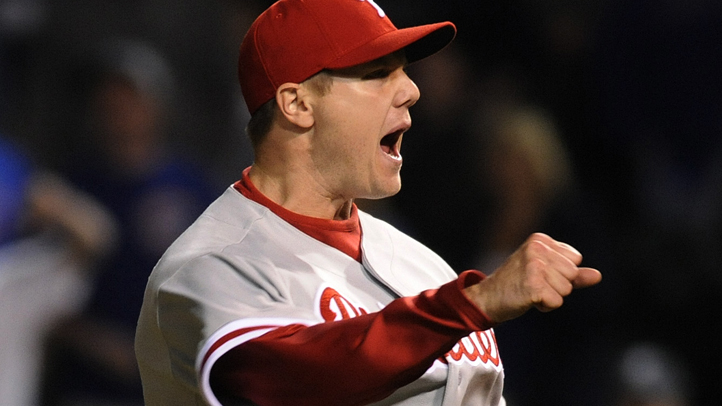 This time last week, the Phillies were riding high following a sweep of the Florida Marlins that put them on the road to a five-game winning streak and a record that finally sat above .500. For a few days, it looked like maybe they were finally figuring it out, and that the season wasn't lost after all. Whatever good vibes they garnered during that winning streak got flushed right away over the last week, thanks to a five game losing streak to the likes of the Milwaukee Brewers and the Minnesota Twins, who treated the lowly Phillies like they were a high school team.

As such, it's time that the Phillies take stock of their situation and start to figure out how they can prepare themselves for the 2014 season. And along with that comes the very real possibility of trading players, be they hitters on their way out after the season, or pitchers who have a few years left with the club.

Ultimately, it all comes down to supply and demand. If a contending team needs a catcher, then your spare backstop might just be worth something to them. Similarly, if an American League central team who is looking to get back to the World Series needs to stop the bleeding in their bullpen, then your elite, expensive closer might just be a valuable trade chip. Cue ESPN's Buster Olney, who wrote on Thursday that the Detroit Tigers might just be in need of the services of Jonathan Papelbon...
The guy he thinks is the perfect fit for the Tigers is Jonathan Papelbon, the Phillies' closer, who has pitched effectively in the midst of a lot of frustration for Philadelphia. In 22 outings, he's got 11 saves, and only three walks and 20 strikeouts in 22 2/3 innings, with a 1.59 ERA. There are no questions about whether he could handle October, given his 18 innings and 1.00 ERA in the postseason.


I like Papelbon, and he's a great pitcher who is unfortunately saddled with the pressure of being the one reliable pitcher in a bullpen (mostly) filled with stiffs, but if there is a team out there that is willing to take him off the Phillies hands, then I am all for it, especially if they are willing to take on salary while providing a prospect or two in exchange.

As Olney goes on to point out, the biggest stumbling block in the way of a Papelbon trade is his salary, which is a cool $26 million over the next two seasons, plus a vesting option of $13 million for 2016. Potentially, a team would be on the hook for $36 million for a closing pitcher who will be in his mid-30s by the time the contract is up. That's not to say that Papelbon will be a washed up husk of a relief pitcher at that point, but that's a ton of dough to pay for a pitcher who will appear in 60 or so innings over the course of the season.

And even though we aren't even in the middle of June, it's never too early to start re-building your baseball team. If the Phillies don't think they can compete this year (God help them if do think they can compete), then why not start shopping some of the few pieces that do have value – especially when that value might be more appreciated by other teams?

I wrote about how the Phillies shouldn't make any rash decisions regarding Cliff Lee this season (unless they get an offer they absolutely cannot refuse), but they should be less inclined to hold onto Papelbon, considering how volatile relief pitchers can be from year-to-year. It was a mistake to sign Papelbon to that contract when those funds could have been put to better use elsewhere, so if another team wants to take him off their hands, I see no reason why they shouldn't consider.