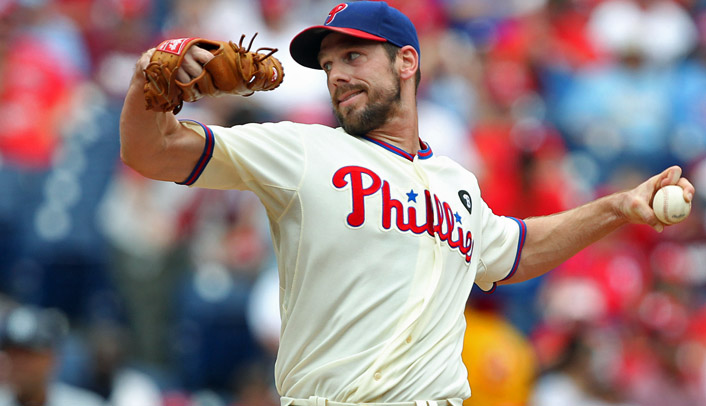 The Phillies No. 2 ace didn't have his best stuff Monday afternoon.
Lefty Cliff Lee struggled through four innings allowing five runs on 10 hits and a walk while tossing 82 pitches in a 5-4 loss to the Padres.
It was the shortest outing of the season for Lee (9-7). He ran into trouble in the second. He allowed a leadoff double to Jesus Guzman who then came around to score on Rob Johnson's one out double.
Lee got pitcher Aaron Harang to strike out before allowing an RBI single to Chris Denofria. San Diego's center fielder advanced to second on the throw home. He then stole third base. Following a walk to Jason Bartlett, Lee threw over to first opening up the door for Denofria's steal of home.
"That's the first time that's ever happened," Lee said about Donofria's heads up play. "I didn't even consider that as a possibility right there. Next time I'm in that situation, I need to make a more firm throw to first and not allow that to happen."
Chase Headley capped the Padres fourth with an RBI double that scored Bartlett.
Lee labored through the third inning allowing two more singles. He then allowed another run in the fourth on Ryan Ludwick's sac fly.
The Phillies fought back in the bottom of the fourth on an RBI triple by Domonic Brown and an RBI single by Carlos Ruiz that cut San Diego's lead to 5-3.
The Phillies would add another run on Raul Ibanez's sixth inning RBI single.
But it wasn't enough. Harang (9-2) won despite allowing four runs on eight hits and two walks while striking out two over six innings.
San Diego's relief trio of Chad Qualls, Mike Adams and Heath Bell each allowed base runners but they were able to escape the threat in a scoreless inning each.
Good news for the Phillies was that Drew Carpenter and Michael Stutes each pitched two scoreless innings of relief and Brad Lidge pitched a perfect seventh inning in his first appearance of the season.
The NL East-leading Phillies (64-37) open a three-game set with the NL West-leading Giants when rookie Vance Worley (6-1, 2.02 ERA) faces off against former CY Young Award winner Tim Lincecum (8-8, 2.90 ERA) Tuesday night.