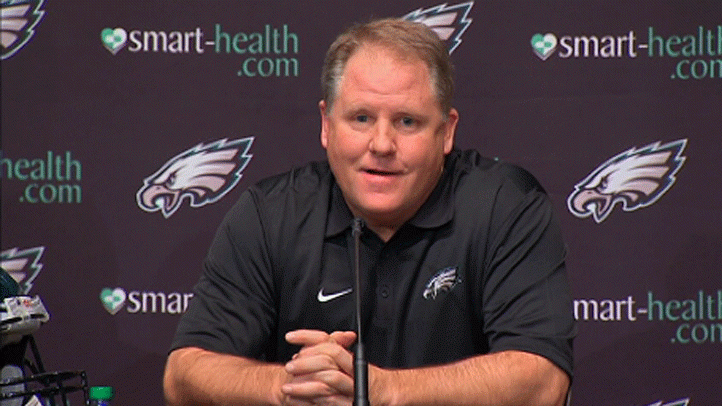 Chip Kelly has landed in Philadelphia and was given a formal introduction Thursday afternoon at a news conference at the Eagles' practice facility.
"I'm excited, I know about the fan base in Philadelphia and that excites me," said Kelly, who also thanked Andy Reid for his support.
"There's not a classier guy. When Andy texted me yesterday when I accepted the job, I told him I had really, really big shoes to fill-- in typical Andy fashion, he said 'just be yourself and you'll be fine.'"
The Philadelphia Eagles interviewed at least 11 potential coaches to replace Andy Reid, who was fired on Dec. 31.
"This is one of the great football experiments and we're part of it, and I think that's exciting for the city," said Angelo Cataldi, WIP Radio.
Besides the Eagles, Kelly interviewed with the Cleveland Browns and Buffalo Bills. He spent four years at the University of Oregon, with a record of 46-7. At the beginning of January, he led the Ducks to a win over Kansas State in the Fiesta Bowl.
The Eagles announced Wednesday he would join the team, after Kelly changed his mind about staying at Oregon.
"Sometimes you have to leave the nest to better yourself or leave one nest as a duck and go to another nest as an Eagle," said Kelly.
Eagles' owner Jeffrey Lurie says Kelly will be an outstanding head coach. "He has a brilliant football mind. He motivates his team with his actions as well as his words. He will be a great leader for us and will bring a fresh energetic approach to our team," said Lurie in a statement.
Chip Kelly says his dream is to win and his goal is to make it to the Superbowl. That is music to the ears of Eagles fans after a 4-12 season.
"It's a good hire, I'm looking forward to seeing him. We need a change after 14 years," said Eagles' fan Rich Haring, from Garnet Valley, Pa.
Copyright AP - Associated Press