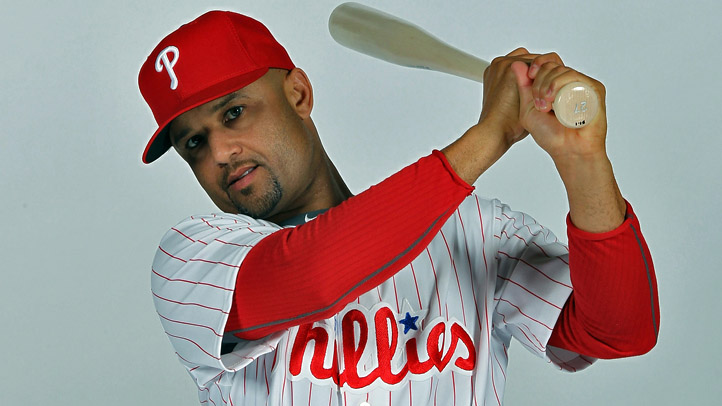 Much of the talk in the days following the Phillies' ouster from the playoffs has centered on the offense.
There's good reason for that. Three of them, in fact. Roy Halladay, Cliff Lee and Cole Hamels will all return next season and that means that contending for the playoffs will be the least anyone should expect from the Phils. Taking the next step up the ladder will require scoring more runs, something that General Manager Ruben Amaro, Jr. discussed earlier this week.
Manager Charlie Manuel hit on the same topic Wednesday. Unlike Amaro's general discussion of the need for a better approach at the plate across the team, Manuel was willing to get specific when asked about All-Star (he was voted in by the fans) third baseman Placido Polanco, who struggled with both the bat and his health this season.
"If we need to upgrade and we can, we should do it," Manuel said.
Polanco has just a .702 OPS since rejoining the Phillies two seasons ago, a number that ranks quite low among third basemen with similar amounts of plate appearances during that time. He has also missed 70 games over the last two seasons and the 36-year-old also had double sports hernia surgeries this week.
Offense isn't the entire game, however. Polanco remains a splendid defensive third baseman and you can't completely ignore that part of the game when looking for an upgrade on the market. Any player who is better offensively without sacrificing too much defense is going to come with a healthy price tag, something that has to be taken into account since Polanco is signed for $6.25 million next year and the Phillies will have to spend money elsewhere this offseason.
That may mean adding a backup/platoon partner is about all the Phillies can do when it comes to third base. Polanco hit lefties very well this year, so that situation might give them a bump at the plate. But it won't be a sea change.
That kind of conundrum illustrates how hard it will be for Amaro to make concrete differences in the team's offense without doing something really unexpected. The team can't really count on the same level of performance from Shane Victorino and Hunter Pence while Ryan Howard's Achilles injury injects a level of uncertainty about what he's going to provide the team next season.
Amaro's comments about a better approach were well-founded, but a veteran team like the Phillies pretty much knows what they're going to get from their players. Jimmy Rollins (if he returns) isn't going to be a different player next season, neither will Chase Utley or Carlos Ruiz. That means the personnel needs to get better.
John Mayberry, Jr. should be better than Raul Ibanez in left field, but after that it is hard to see obvious places where they can improve outside of third base. Victorino and Pence could be traded, but you're unlikely to realize an acceptable return on those players if your goal is remaining at the top of the National League next season.
Amaro has his work cut out for him, but it is a good sign that the team seems open to exploring every option.
Copyright FREEL - NBC Local Media