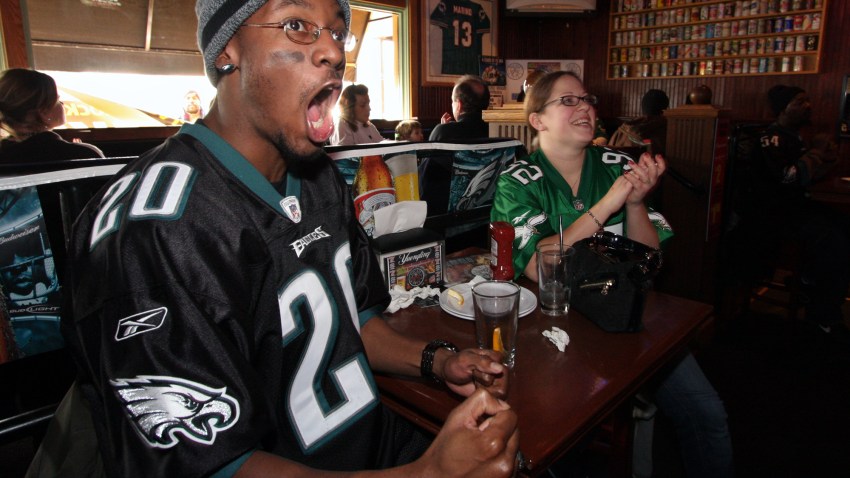 After a "Giant" win the Eagles are looking to celebrate with their fans on Monday.
Some of the Birds are spending the day after the victory at a slew of events as they ask fans to "Believe in Green."
There are a handful of events throughout the city that will feature players, coaches, the Eagles Cheerleaders and even Swoop the mascot.
So if you bleed green grab your favorite jersey and get out to one of these events.
What: "Believe in Green" Fan Ambush
Where: It's a secret but it will be somewhere in Center City
When: Morning time
Details: Eagles fans will start their week off right with a surprise visit from the Eagles as they make their morning commute. SWOOP and Eagles street team will be giving away Eagles poster cards and encouraging fans to "Believe in Green."
What: Coach's Show with Jason Avant
Where: Chickie's and Pete's in South Philly (1526 Packer Ave., Philadelphia, Pa.)
When: 6 to 7 p.m.
Details: Eagles Head Coach Andy Reid and wide receiver Jason Avant will be broadcasting live from South Philadelphia on 94.1 WYSP. Fans are invited to come out and see Coach Reid and Jason Avant discuss Sunday's win and the team's outlook on the Arizona game.
What: Comcast's Monday Night Live
Where: Chickie's and Pete's in South Philly
When: 7 to 8 p.m.
Details: Following the Coach's Show, Comcast's Ron Burke, Eagles alumni Ike Reese and WMMR's Kathy Romano will be live. Defensive tackle Mike Patterson will be a guest on the show.
What: Eagles Primetime Live
Where: The Field House (1150 Filbert St., Philadelphia, Pa.)
When: 7 to 8 p.m.
Eagles kicker David Akers, wide receiver Kevin Curtis and quarterback A.J. Feeley will be joining 92.5 WXTU host Andie Summers for a live radio broadcast. The players will dissect Sunday's game and talk about their preparations for the upcoming NFC Championship Game.
*Details of the above events supplied by the Philadelphia Eagles.
What: Reggie Brown With the MGK Classic Rock Squad
Where: Chickies' and Pete's Bordentown (183 Route 130, Bordentown, N.J.)
When: 7 to 8:30 p.m.
Details: Eagles wide receiver Reggie Brown will join MGK DJ Ray Koob for his radio show. Brown will talk about the Eagles big win, meet with fans and sign autographs, according to MGK. Also get to play some Nintendo Wii and watch out got MGK prizes.