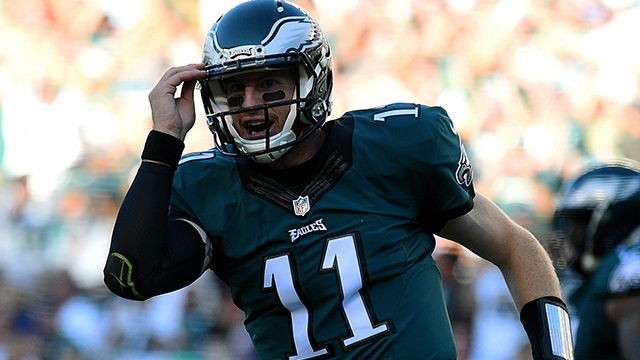 Another week, another award for Carson Wentz.
This time the Eagles' electrifying rookie has been named the NFC's Offensive Player of the Week for his performance against the Steelers.
In the 34-3 win over Pittsburgh, Wentz completed 23 of 31 passes for 301 yards, two touchdowns, no interceptions and a passer rating of 125.9. It was the first 300-yard game of his very young career.
Wentz is the first rookie QB in Eagles history to win an Offensive Player of the Week award.
Through three games, the 23-year-old has completed 64.7 percent of his passes for 769 yards and five touchdowns. He's the first rookie quarterback in NFL history to achieve those stats in the first three games of a career. He still hasn't thrown an interception in 102 passing attempts, which is a record for rookies.
It looks like Wentz will have plenty more opportunities for awards this season. [[247269581, C]]
Copyright CSNPhily