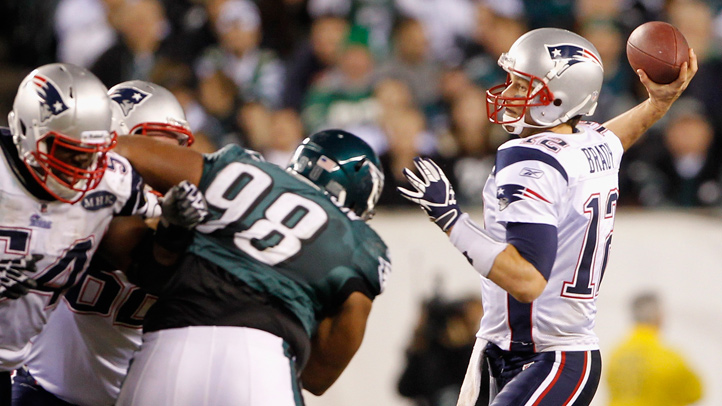 At the end of Sunday's brutal 380-20 Patriots win over the Eagles two players were firmly seated on their respective benches. One was Pats QB Tom Brady, leader of an elite but far from perfect team, who took a rest after amassing a three-touchdown lead. The other was DeSean Jackson, talented underachiever on a league-basement team, who was benched for poor play while the Eagles were trying desperately to come back.
There may be a more apt and fair comparison, but to me that distinction illustrates exactly how far the Eagles have fallen. They used to be an elite squad. Not anymore.
Let's check the numbers:
7 = Times the Patriots entered Eagles territory. They scored five touchdowns and went 1 for 2 on field goal attempts on those seven possessions. That touchdown percentage would be worst in the league for opponent trips to the red zone, let alone crossing the 50-yard line.
2 = Official tackles by Eagles LB Jamar Chaney. There is no doubt that on Sunday Chaney missed more tackles than he made. See the entries under "no need for linebackers" and "fundamentally sound" in the Eagles coaching handbook.
400 = Largely worthless passing yards by Eagles QB Vince Young. That is, however, a single game career high.
40 Percent = Completion percentage on passes targeted at DeSean. Young's total would have been even higher if not for D-Jax letting two touchdowns and another 75 to 100 yards slip through his fingers -- literally. DeSean's stock has never been lower. It's increasingly likely not only that he's playing for another team next season but that the Eagles won't be able to get back much for his services.
10 = Eagles penalties, for 60 yards.
6 = First half carries by Eagles RB LeSean McCoy. The Patriots secondary is bad and the Eagles were able to take advantage of that matchup frequently, so I won't belabor the "why won't you run the ball?" point. But the Patriots were also deficient against the run, no matter what Andy Reid said in his post game press conference. Especially in a game when the goal needed to be keeping Brady off the field, Shady should have been more of a factor. You can bet that's what Jim Washburn was heckling Marty Mornhinweg about on the sideline.
.111 = Eagles win percentage (including playoffs) at Lincoln Financial Field since beating the Texans on Dec. 2 of last season. Seeing so many fans stream out of the stadium with a quarter left to play couldn't have made Jeff Lurie happy.