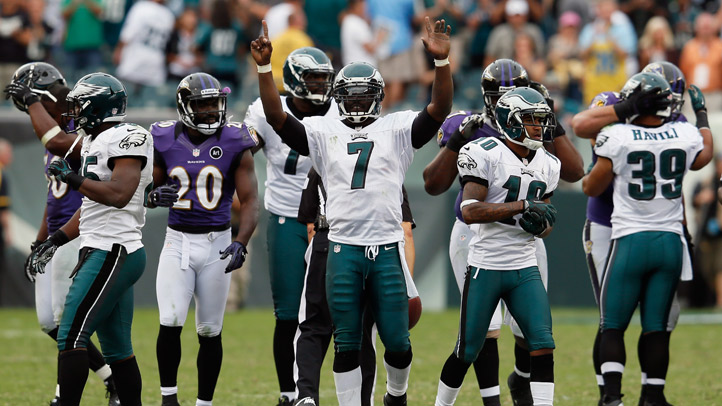 If the ending of the Browns game came as a collective sigh of relief among Eagles fans, this one point win was a jubilant scream. Despite more turnovers, penalties, and a spate of injuries that grounded three offensive starters, the Eagles beat what looks like at worst a solid contender and at best a team primed to make a deep playoff run. Kudos all around. Let's go to the numbers:
71.9 = Michael Vick's completion percentage. That's Vick's second-highest single-game completion percentage since he came to Philly. He still isn't out of the woods; that end zone interception on the first drive was too ambitious, and he almost had a third pick when he tried to force the ball to Brent Celek in the red zone, but this was a much better version of Vick.
36.0 = Average QB rating vs Eagles defense. Average QB rating in opponents' other games (both vs CIN): 121.7. Great stat find by The Guy On The Couch, at the very least it shows how much better the Eagles D is compared to the Bengals D.
42:31 = Eagles pass-run play call ratio. The actual ratio of passes to runs tilts the other way because of Vick's scrambles, but overall Andy Reid and Marty Mornhinweg called a fairly balanced attack (especially compared to last week). Two other notes on this. One: LeSean McCoy clearly has a pitch count. Otherwise they wouldn't have given six early carries to Bryce Brown/Stanley Havili/Damaris Johnson. Two: the pitch count makes it obvious early on when the Eagles are going to focus on the run. If the coaches know they want to run more, they work hard to limit McCoy's touches early in order to preserve him for later.
​9 = Eagles turnovers in their first two games.​ It's amazing that the Eagles have managed to win twice with these turnovers (plus other mistakes like penalties). The only five teams with worse turnover margins are a combined 3-7 so far. What does DeSean Jackson think about this?
"If you cut away those turnovers, we're the best team in the league," he said, "period, hands down."
30 = Possessions by Eagles opponents in two games.​ Not to harp on the same theme, but the defense has had to deal with the ramifications of those turnovers. Let me put it this way: the Ravens offense racked up 44 points in 10 drives against the Bengals. They could only muster 23 points in 14 drives against the Eagles.
70 = ​Defensive snaps for both DeMeco Ryans and Mychal Kendricks. They played every down yesterday. Looks like the linebacker shuffle may be over, at long last.
19.6 = Yards per catch for Celek.​ The Eagles tight end had a tremendous game, not the least of which was his vault over Hall of Fame safety Ed Reed. I think this will be easier to see on All-22, but it seems that the Ravens—like the Browns before them—kept their safeties deep to prevent the long ball. That opened up a lot of space in the middle of the field for Celek to exploit in crossing routes. One of the things that such success suggests, however, is how much better Vick is throwing to larger targets. At least until Riley Cooper returns, Celek is by far the Eagles biggest receiver—and that's unfortunate.
25 = Pass targets, out of 42 total, for Ray Rice and Dennis Pitta. Again, tough to tell before the All-22 is released, but it seemed that the Eagles were very effective in man coverage on the Ravens wide receivers. Aside from a few breakdowns, like Jacoby Jones beating Nnamdi Asomugha with a double move or Dominique Rodgers-Cromartie inexplicably bailing out of coverage on Torrey Smith down the sideline, Flacco couldn't get anything going on the outside or up the field. He was forced to check down to his tight end and running back, a trade-off the Eagles will take every time. There's definitely room to improve against those players, though. Nate Allen and Kurt Coleman each had trouble at times keeping up with Pitta/Rice.
2 = Back-to-back Eagles wins by a single point. Last season, the Eagles went 2-5 in games decided by a touchdown or less. This year, they've won two straight by a single point. I think some of the "if this were 2011, they would have lost" talk is misleading, because this isn't about "heart" or something similarly abstract. A large part is substantive improvement in the defense. In both games, the Eagles opponent had ample time to mount a game-winning drive in the final seconds (and the Ravens certainly had the kicker to pull it off). The difference in 2012 is that the defense is good enough that it can shut down an offense in the last moments.