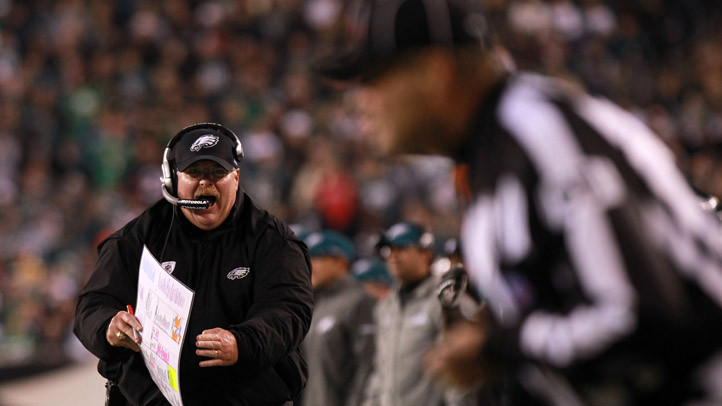 The Eagles are indisputably less than the sum of their parts. Not that those parts on their own are all great, but any team with this type of talent should be better than that.
That's coaching.
35 percent = Completion percentage on passes to Jeremy Maclin and DeSean Jackson. Brent Celek was the Eagles leading receiver for the second-straight week. On one hand, it's a welcome change to see Celek finally becoming an offensive weapon again. But Celek's emergence has come in part because defenses have largely shut down the Eagles best receiving threats. Last week that wasn't a problem, but it's tough when your top two wideouts only get the ball six times total.
0 = Sacks and hits on Jay Cutler. Jim Washburn's pass rush has been stellar for most of the season, but it didn't show up last night. The Bears came into the game ranked 27th in adjusted sack rate. Everyone expected the Eagles defense to get pressure on Cutler, but it didn't happen.
2 = Bears Pro Bowl linebackers. It's amazing what some competent linebacker play can do.
3/4 = Bears red zone touchdown efficiency. You can't win if you don't do better in the red zone. The Eagles defense was worst in the league last year in the red zone and Sean McDermott was shown the door. The team is just as bad this year.
133 = Rushing yards by Matt Forte. Same old, same old. The Eagles won two games and people pushed the problems we had seen for weeks to the back of the bandwagon bus. But they never went away.
1/2 = Eagles red zone touchdown efficiency. The offense right now is like a thoroughbred with asthma. You can see the potential, especially when Michael Vick does something no other quarterback can do or when LeSean McCoy and Jason Peters tag team the defense. But at the end of the day they just can't keep those moments coming. You know an untimely interception or a dropped pass is just waiting to sideline them again.
3-5 = Eagles record through eight games.