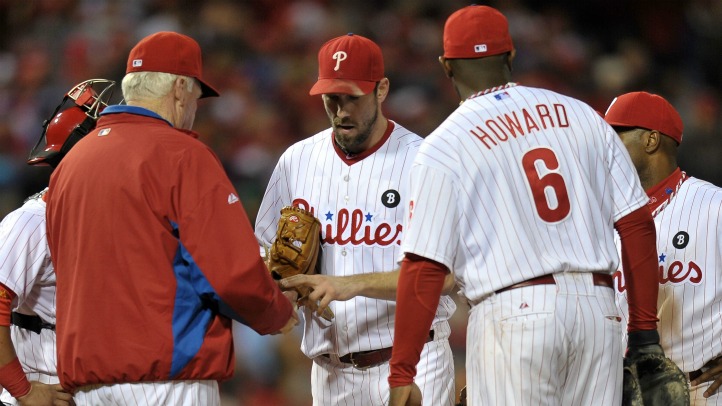 Casey Feeney of CSNPhilly.com made an interesting argument about pitching strength in the postseason this week.
Feeney posits that Cliff Lee's loss in Game Two of the NLDS shows that it is more important to have a great bullpen than a great starting rotation once the playoffs roll around. To Feeney, Manuel left Lee in the game too long because he didn't trust his bullpen and that allowed Lee to dig a hole too deep for the Phillies to escape before the end of the game.
He buffets the argument by pointing to the Yankee teams that won four titles in five years on the back of a bullpen that featured Mariano Rivera, Jeff Nelson and Mike Stanton in prominent roles. The 2002 Angels and 2008 Phillies -- and this year's winner, obviously -- are also cited as teams that used their bullpen as the foundation for their success.
That's what we call cherrypicking an argument. The Giants won last year because of starting pitching, the Red Sox won both their titles with superior rotations and the 2005 White Sox rode great starts all the way through the postseason. Keep rolling it back and you'll find Josh Beckett carrying the 2003 Marlins and the 2001 Diamondbacks, who blew two games with two outs in the ninth inning, of Randy Johnson and Curt Schilling.
And, since we're at it, the idea that those Yankee teams were somehow deficient in the starting rotation shows a pretty short memory. Roger Clemens, Andy Pettitte, Orlando Hernandez, David Cone, David Wells and others made it easy to turn games over to the bullpen with leads.
None of this is meant to discount the importance of the bullpen in the run to a title. Winning 11 games in a short run at the end of a 162-game season demands good arms in relief and a manager that knows how to deploy them to win key matchups in the late innings of close games. But the important thing is getting the outs, not who gets the outs, when you're talking about winning games in October.
The thread that runs through most of these championship teams, with the exception of the 2010 Giants and the 2005 White Sox, is that they also had really strong offenses. That's where the Phillies came up short against the Cardinals and an attempt to argue otherwise simply doesn't have enough juice to go the distance.
You know, like Chris Carpenter in Game Five.
Copyright FREEL - NBC Local Media