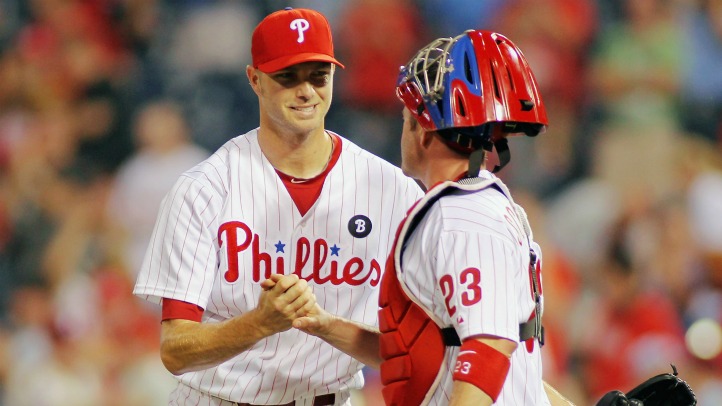 You don't hear much about the Phillies bullpen this season.
That's what happens when you aren't asked to do much heavy lifting. The rotation has been so good and eaten so many innings, that there hasn't been cause to spend a lot of time thinking or talking about the relievers. If things go that way through October, there will probably be a parade to attend because it will mean the starters did to the opposition what General Sherman did to Atlanta way back when.
The good news for the Phillies is that if the bullpen does find itself in the spotlight, there's still a good chance of going to that parade. Wednesday's loss to the Mets provided some evidence in favor of that opinion.
After Kyle Kendrick made a mess of things in the early innings, the bullpen allowed one run over five innings of work. The final four relievers to appear in the game -- Brad Lidge, Antonio Bastardo, David Herndon and Ryan Madson -- didn't allow any runs at all, which gave the Phillies a chance to get back into the game. It didn't work out because it is hard to climb out of four-run holes, even against the Mets, but the bullpen deserves some credit for making it possible.
The strong work is no aberration. Over the course of the season, no bullpen has experienced fewer meltdowns -- defined by Fangraphs as outings which make teams six percent less likely to win a game -- than the Phillies this year. Some of that has to do with limited opportunities, but it is still an impressive accomplishment for a group that has run through multiple closers and relied heavily on previously unknown arms to get the job done.
So we're not mistaken, this isn't a plea to see the Phillies bullpen as more than it is. They aren't in the same class as the Braves or Giants and any attempt to argue otherwise shouldn't be taken seriously. Outside of those two teams, though, there isn't a better pen in the National League, even if most of their work is done outside the spotlight.
It's reassuring to know that on the rare night when the starter can't finish the job, the Phillies are well-stocked with people who can.
Copyright FREEL - NBC Local Media