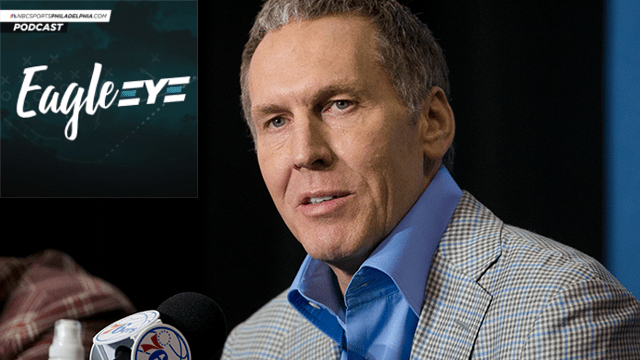 What in the name of Sam Hinkie is going on here? Bryan. Colangelo.
The man who was supposed to help LeBron James land in Philly has instead landed on the unemployment line (more on Colangelo's resignation). All over some tweets. We talkin' about tweets … not a game … not free agency … we talkin' about tweets. But how are Sixers fans supposed to feel about being caught in a social media version of the "Crossface Crippler?"
The 76ers won 52 games this season. Fifty-two! The best record for this organization in 17 seasons! "The Process" has yielded two cornerstone, franchise pieces. Establishing a foundation firmer than the starch in Colangelo's collar. Yet, all the entire NBA is talking about is how the 76ers were held hostage by an internet bully for nine days.
Colangelo was a two-time NBA Executive of the Year, which makes me think he had enough savvy and relationships with agents and front office members around the league to orchestrate what it would take to sell James on Philly and build around the best player of this generation. This scandal strips Colangelo of all of the rapport he has built in those arenas, which a handful of personal calls saying, "I didn't do it!" couldn't ever repair.
Sixers fans should feel betrayed, frustrated, confused and overwhelmed. But, don't lose sight of the goal. The Larry O'Brien Trophy is still squarely in our crosshairs. Now is no time to be distracted. There's a chance this could work out in our favor; in a 'Homer Simpson almost destroys the power plant, but still gets the donut sort of way.
So, how does this wind up benefiting Sixers fans and the organization as a whole? It gives the front office a chance to recalibrate. Flat out, it was awkward the way Colangelo arrived and Hinkie exited. Although Colangelo had the chops for the position and his father, Jerry, recused himself from the search, it still reeked of nepotism the way his dad arrived to help reshape the organization in 2015 and his son, who was out of an NBA front office for three years, soon joined him among the Sixers' brass five months later. That era is now over and a new unencumbered one can begin. One without heirs. No 13-page resignation letters casting doubt. No overtures to transparency without the substance to back it up.
If the Sixers want to win the Eastern Conference, they need to be better than Boston which, when healthy, has more weapons than a good Schwarzenegger flick. They need to be better than whatever team James plays on. A name who may be able to enact those ideals? Michael Zarren. The Sixers flirted with the Celtics' assistant general manager back in 2012 before hiring Hinkie. He has much to do with Boston's success in the draft, loves analytics, is a salary cap expert and Harvard Law grad. He could be the missing piece. The Sixers need to collar the right executive. Pun intended.
Copyright CSNPhily