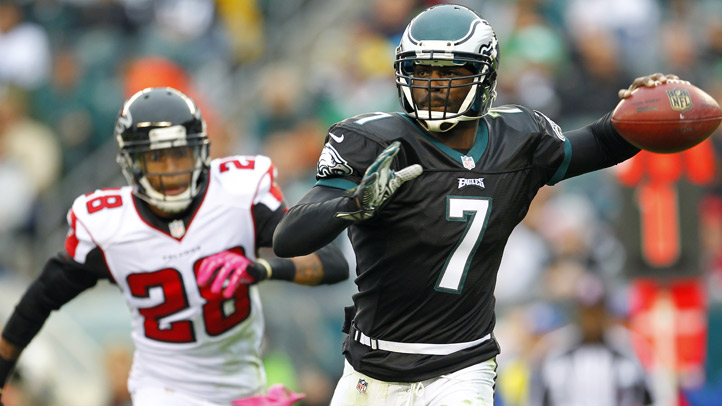 Even though they share the same 3-6 record, the Eagles and Redskins are a study in contrasts. Washington is a young, inexperienced offense with a franchise quarterback who could really be special. Philly, meanwhile, is suddenly old, slow and its franchise quarterback may never take the field for the Eagles again.

On Sunday, the two teams meet in FedEx Field for what could amount to a farewell tour for, well, a lot of folks. The two biggest names: Andy Reid and Michael Vick. But when it's all said and done they may not be the only former members of the Eagles organization. The Philadelphia Inquirer's Jeff McLane identifies some possible candidates to earn a sit-down with the Bobs.

At the top of the list after Reid: cornerback Nnamdi Asomugha. He signed a $60 million contract before the 2011 season and that will probably prove to be the highlight of his time in Philly. He hasn't been awful but he's played nowhere near the Pro Bowl level that made him such an attractive free agent 16 months ago.

Then there's Jason Babin, who has been in the news more this season for complaining about naughty things he hears fans say and not for actually sacking quarterbacks.

The names keep coming but we'll just mention one more here: Demetress Bell, the swing tackle who embodies all that's wrong with the offensive line.

But back to Vick…

On Monday, Reid hadn't officially ruled him out for Sunday's game.

"Not right now," he said. "We'll go through the protocol here. I'll just tell you, though, that it's a pretty good one. So, we'll go through the protocol."

But there's speculation that not only will Vick miss the Redskins game, he'll remain on the sidelines for the rest of the season. Yahoo.com's Jason Cole wrote about it shortly after the Eagles lost to the Cowboys.

"I'm 99 percent sure that's exactly what you're going to see happen," a source told Cole Monday morning. "Andy is going to go to [owner] Jeff [Lurie] and [general manager] Howie [Roseman] and say, 'Let's go with Foles and make the transition to the next era.'"

Certainly seems reasonable but PhillyMag.com's Tim MacManus raises an important issue:

"Though the wave of popular opinion has already pushed Vick out of town for 2013, I am accounting for at least the possibility that he returns. You would think that Lurie and Howie Roseman would consult the next head coach before making such an important football decision as who the quarterback will be. Seeing as we have no idea who that coach is, how can we know for sure what his take will be?"

It's a fair point and one the front office certainly has to consider no matter what happens to Reid. There's already talk about what a Chip Kelly NFL offense could look like with Vick under center should a) Kelly make the jump from college and b) Philly lets Vick walk.
It's also worth remembering that we don't know what type of quarterback Nick Foles can be. What if he bombs, then what? It's probably worth having a well thought out contingency plan just in case.