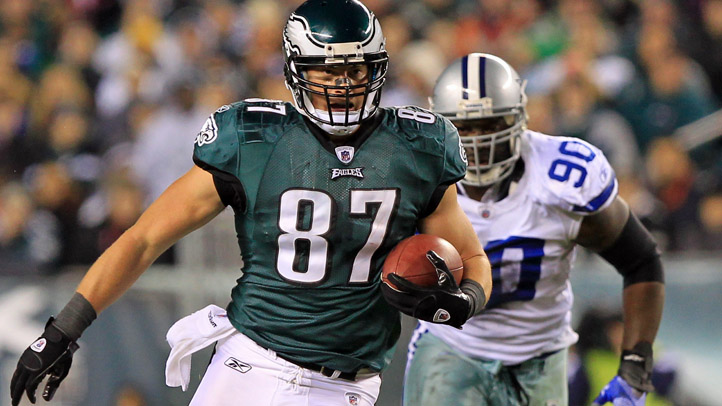 A Philadelphia man was arrested early Thursday morning for allegedly driving under the influence.
One of the man's passengers was Eagles tight end Brent Celek.
"I put my life in danger and was in a vehicle that put other people's lives in danger, and that's just not the way I operate," Celek said in a statement on Thursday. "It will not happen again."
Around 2:25 a.m., police say Sean Glynn, 35, was driving southbound on I-95 at an unreasonably high speed. While exiting at the Packer Avenue off-ramp, Glynn spun out of control and struck a concrete barrier on the right side of the roadway, according to investigators.
After an investigation and a sobriety test, police arrested and charged him with driving under the influence.
"As far as the events of last night are concerned, I showed extremely poor judgment," Celek said in his statement. "I did not know that the person driving the car was over the legal limit, but that's no excuse."
Celek, who turned 27 on Wednesday, was one of the four passengers in Glynn's car. No one was hurt and none of the passengers were charged.
The Eagles issues this statement:
"The team is aware of the accident and has been in contact with Brent. Thankfully, no one involved in the accident was injured and, to our knowledge, Brent is not facing any legal charges."
---
Fan, follow and download: Get the latest from NBCPhiladelphia.com anytime, anywhere. Follow us on Twitter, Facebook and NBC Philadelphia. Sign up for our breaking news newsletter. And, get breaking news delivered right to your mobile phone -- just text PHIBREAKING to 639710 to sign up. (Message and data rates may apply.)