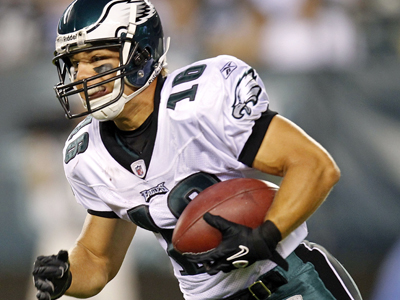 Preseason games are a limited and often useless tool for judging the team's prospects, but we can certainly start speculating as to what the team might look like come Week 1.
Some esteemed writers have already started to release their early roster projections for the Eagles. I'm not at that prediction point yet, but it's still worth analyzing where we're at in terms of the 53-man squad.
When you look at the roster right now, you can separate the competition into three categories. There are the locks, players who have roster spots sewn up, barring injury. Then there are the position battles, where we know there is a backup spot to be claimed. Finally, there are the discretionary spots, in which players compete across the team for those final extra jobs -- think special teams -- that round out the roster.
Let's get the locks out of the way first:
QB (3) - Michael Vick, Mike Kafka, Nick Foles
RB (2) - LeSean McCoy, Dion Lewis
TE (2) - Brent Celek, Clay Harbor
WR (5) - DeSean Jackson, Jeremy Maclin, Jason Avant, Riley Cooper, Marvin McNutt
OL (7) - Demetress Bell, Evan Mathis, Jason Kelce, Danny Watkins, Todd Herremans, King Dunlap, Julian Vandervelde
DE (4) - Trent Cole, Jason Babin, Brandon Graham, Vinny Curry
DT (3) - Cullen Jenkins, Fletcher Cox, Derek Landri (Mike Patterson to PUP)
LB (5) - Mychal Kendricks, DeMeco Ryans, Brian Rolle, Jamar Chaney, Casey Matthews
CB (4) - Nnamdi Asomugha, Dominique Rodgers-Cromartie, Brandon Boykin, Curtis Marsh
S (2) - Nate Allen, Kurt Coleman
ST (2) - Alex Henery, Jon Dorenbos
That's 39 out of 53 spots that I have in the bag right now. Where do we go from here? The position battles, i.e where two or more players are competing for at least one assured job after final cuts:
RB (1) - Bryce Brown vs. Chris Polk
FB (1) - Stanley Havili vs. Emil Igwenagu vs. free agent TBD
WR/RET (1) - Chad Hall vs. Damaris Johnson
C/G (1) - Dallas Reynolds vs. Mike Gibson vs. free agent TBD
G/T (1) - Dennis Kelly vs. Brandon Washington vs. free agent TBD
DE (1) - Darryl Tapp vs. Philip Hunt
DT (1) - Antonio Dixon vs. Cedric Thornton
LB (1) - Akeem Jordan vs. Keenan Clayton
CB (1) - Joselio Hanson vs. Brandon Hughes
S (2) - Jaiquawn Jarrett vs. OJ Atogwe vs. Colt Anderson (potential PUP candidate)
ST (1) - Mat McBriar vs. Chas Henry
That's 12 more spots taken, representing all the major spots of competition to keep an eye on during the preseason. Then the coaches will have two more spots to play with and use at their discretion. That's where all our expert predictions will really be tested. Which of the above position battles will end with two players that deserve to stay?
The Eagles could keep an extra offensive lineman. They could go heavy on the defensive front, especially with current injuries to three starters. Cliff Harris could sneak on to the roster at cornerback if the team is worried he won't make it to the practice squad. They have Brett Brackett if they want to carry three tight ends. And if special team specialist Colt Anderson doesn't make it back in time for Week 1, does Bobby April get to keep a different special teams ace?
So many possibilities. Only 53 jobs.