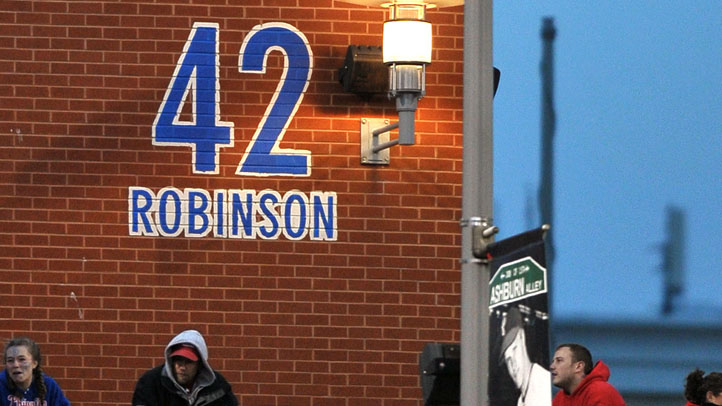 The Phillies are down in Atlanta this evening to begin a three-game set with the Braves, who stand four and a half games behind them in the NL East. And Major League Baseball has decided that this particular series between the two teams is more than just a three-game homestand. It's going to be part of an entire Civil Rights Weekend.
Baseball is honoring Academy-award winner Morgan Freeman, Hall of Famer Ernie Banks and Grammy Award-winning artist Carlos Santana during its annual Civil Rights weekend.

Rev. Jesse Jackson, who will participate in this weekend's events during the Braves-Philadelphia Phillies three-game series, says baseball "has played a unique role in advancing the civil rights struggle.'' Jackson says with Jackie Robinson breaking the baseball color line in 1947, Robinson "challenged and changed the American climate," according to Sports Illustrated.
Sunday night's game against Atlanta will be the official Civil Rights game, and will air nationally on TBS. And while you may think that Carlos Santana has very little to do with Civil Rights, apart from perhaps adding a completely unneeded guitar overlay to its soundtrack, baseball is giving him something called the "Beacon Award" (I'm told it's shiny) for his charitable works with the Milagro Foundation. And Morgan Freeman is a really cool guy who can get away with rocking an earring at 98 years old, so that honor's justification goes without saying.
This thing puts the Phillies in a bit of an awkward position. These ceremonies are being held in Atlanta since that city is one of the historic landmarks of the Civil Rights movement along with Birmingham and the like. Which means the Phillies are the spoilers for this particular homecoming weekend -- ENEMIES OF CIVIL RIGHTS! You know, if you really want to blow everything out of proportion. Anyway, enjoy this weekend as the Phils again find themselves part of an MLB showcase event. I wager this won't be the last time that happens this year.