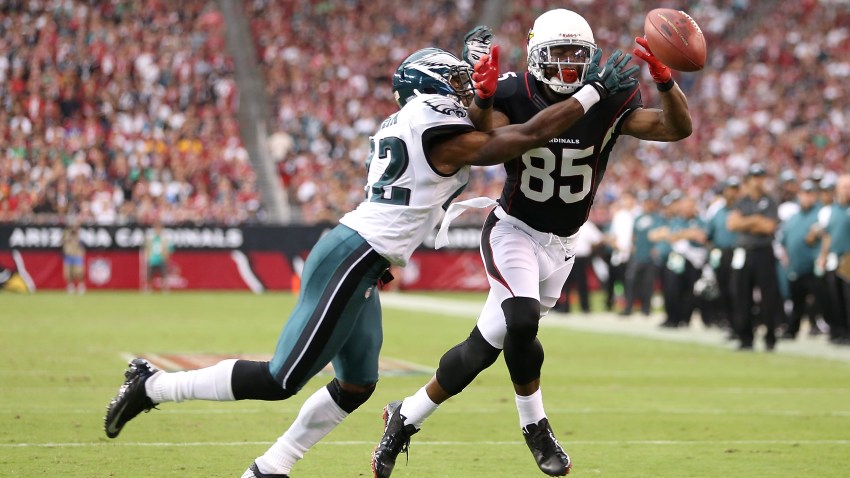 Perhaps because I'd rather focus on the good than the bad, I feel like I've been using the phrase "one of the few brights spots" a lot over the last few weeks. When it comes to the 2012 Eagles and silver linings, most of them have to do with this fantastic rookie class. I mean, look at the list. Two players who have started from Week 1. Three more players became starters down the stretch and flashed potential. That's already a tremendous haul.
Right in the middle of that group is Brandon Boykin, the rookie slot cornerback. These days, when NFL defenses play nickel about half the time, the third corner is a vitally important player -- although it requires a particular skill set. Dominique Rodgers-Cromartie, for example, had athleticism but not the smarts, technique or quickness to make a good slot corner. Joselio Hanson was the team's answer there for a long time, but drafting Boykin made him immediately expendable.
Coming out of Georgia, Boykin missed the NFL combine after fracturing his leg. While he was once considered a second-round pick, he fell down to the fourth round, where the Eagles picked him up. At that price, there's little downside. Even if he can never be anything more than a slot corner.
Boykin showed right away that he belongs in the NFL, which is more than other recent draft picks like Curtis Marsh and Trevard Lindley did. His transition wasn't perfect: there were a few mental breakdowns and some teams have tried to exploit his lack of experience. Still, overall Boykin hasn't made anyone nostalgic for Hanson. According to Pro Football Focus, there have been 20 cornerbacks who have played at least 50 percent of their team's slot snaps. In his first season, Boykin already fits comfortably into that group:
There are really three parts of a cornerback's job in coverage. First, keep tight coverage and deter the quarterback from throwing the ball your way. Boykin ranks seventh among other slot corners at this, measured by targets per snap. He's also very good at the second part of a cornerback's job -- preventing the catch. Boykin ranks third, with a low 56.3 completion percentage on balls thrown his way. Only in the final category does Boykin struggle. He ranks 18th out of 20 in yards per catch allowed, meaning that when Boykin's receiver does catch the ball, he often turns it into a big gain.
You can understand why this split might occur. Boykin has been exploited in coverage a few times, and missed a few tackles. He has allowed fewer passes to be completed, but then has committed more mistakes after the catch. Hopefully, in his second season, Boykin can improve on his performance and limit those long gains.
One final note: in addition to the 208 coverage snaps Boykin took in the slot, he also played outside for 108 snaps. His numbers were similar. Boykin's targets per snap and completion percentages actually went down slightly, although his yards per catch average grew. It's probably too small of a sample size to draw any hard conclusions, especially since most of what we know about his profile suggests that he's best in the slot. Still, if Boykin's ceiling is actually higher, it could soften the blow of the likely departure of at least one, if not two, starting corners this offseason.