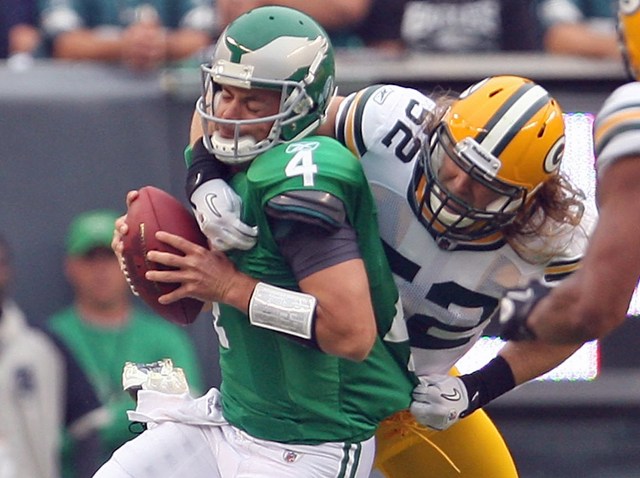 As reporters were arriving at the NovaCare Complex on Wednesday morning, Stewart Bradley was driving away. The starting middle linebacker's work day was cut short.
Bradley and quarterback Kevin Kolb didn't pass the second phase of concussion testing Wednesday. Andy Reid, however, said both players have "made progress" since Monday.
Kolb and Bradley didn't sit in on team meetings because of the concussions they suffered against the Packers in last week's season opener. Reid would not commit to either player getting on the practice field this week or playing on Sunday against the Detroit Lions.
The earliest Kolb and Bradley could return to practice is Friday, but two hurdles stand in the way.
Both must pass the second phase of testing and then a third phase administered by an independent doctor, William Welch, the chief of neurosurgery at Pennsylvania Hospital, who will meet with Kolb and Bradley on Friday.
Michael Vick led the team in practice and will also lead them Thursday in preparation for Sunday's game. The scrambler is the favorite to start on Sunday -- his first regular season start in four years.
"I just got to make the most of the opportunity and try to help this football team win until Kevin comes back and is healthy," said Vick.
As for a QB controversy? Don't bet on it. Reid stated again that Kolb won't lose his starting job because of this injury.

"Kevin knows he's the guy," Reid said.