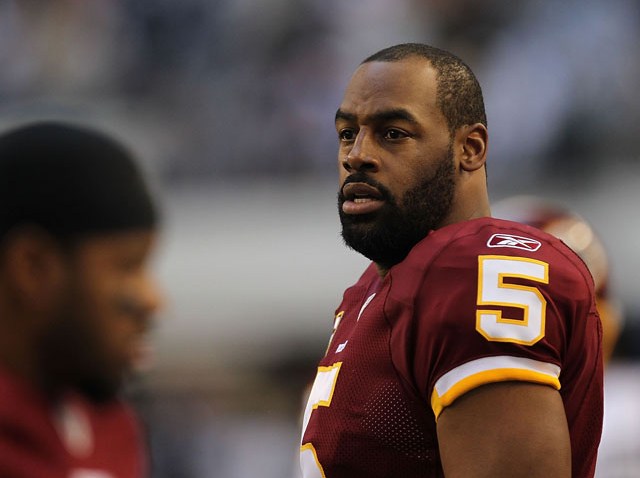 It's no secret that Donovan McNabb probably isn't long for the Washington Redskins. He's been benched twice. His agent blasted the team. He supported his agent blasting the team. Oh, and he's kind of awful. So that probably spells the end for McNabb's brief stint under Danny Snyder.

But that doesn't mean there can't be numerous other teams out there hoping that McNabb can play horribly for them. No, sirree! Remember, there are a ton of teams that are utterly bereft at the position of quarterback, so much so that it can make signing McNabb and making him the starter seem like a good idea.

Now, McNabb has already requested his release from Washington, but the Redskins (cue snickering) are hoping to trade McNabb in the offseason in order to recoup some of the bounty they paid for him last offseason.
The terms of McNabb's contract allow the Skins to hold onto McNabb right up until the end of the 2011 preseason before exercising their out clause. So they can essentially hold McNabb hostage all summer long and hope a team sends them a token draft pick just so that they can have him in time to pick up the offense (though Mike Shanahan will tell you there's NEVER enough time for McNabb to pick up an offense).
So McNabb might find himself in the employ of a team that needs a QB due to either A) Injury, or B) A rookie QB who isn't quite ready to start yet. Or the Skins could be nice and release him outright immediately. But if you've ever paid for parking at a Skins game, you know they don't do courtesy. Where will McNabb end up? Here are your favorites:

Minnesota (4/1): The Vikings were a rumored spot for McNabb as far back as last year, and the reason why they'd consider him is because Zygi Wilf is pushing for a new stadium and doesn't want to have a rebuilding year with a rookie QB and a 3-13 record. Much better to have an old QB and a 6-10 record, like this year! The Vikings may believe they have the weapons and talent to help McNabb flourish where Washington did not. Plus, they have a thing for really, really old QB's (Favre, McMahon, Cunningham).

Arizona (8/1): McNabb's offseason home is probably where he'd like to go the most, but my pal Will Leitch at New York Magazine says he thinks coach Ken Whisenhunt doesn't like McNabb at all. And I believe everything negative said about another person.

Cleveland (10/1): Kind of a perfect destination for McNabb. He'd have Mike Holmgren as the GM, which means the offense would probably end up resembling the one he ran in Philly (especially if Holmgren cans Eric Mangini and brings in his own guy). And he'd probably end up competing with Colt McCoy for the #1 job. McNabb might like the idea of beating a younger guy out and coming to Cleveland's rescue.

San Francisco (11/1): Another team desperate to fix their horrible QB situation. BONUS: McNabb's last name isn't Smith. McNabb would almost certainly be a caretaker for the position while the team's new coach breaks in a rookie passer. If McNabb is released by the Skins, he may not want to go somewhere where he knows he could be benched by Week 10.

Seattle (12/1): What better place to go to be forgotten? Warren Moon had the right idea.

Miami (13/1): Because they don't really know what they're doing.

Buffalo (15/1): If only for the irony. Would TO ever stop laughing? No, he would not.

Tennessee (19/1): To keep the seat warm while Vince Young learns to mature. ONE OF THESE YEARS IT'LL HAPPEN! BUD ADAMS TOLD ME SO!

Philadelphia (100,000/1): But only if the Skins give them an extra second rounder just to take him off their hands.