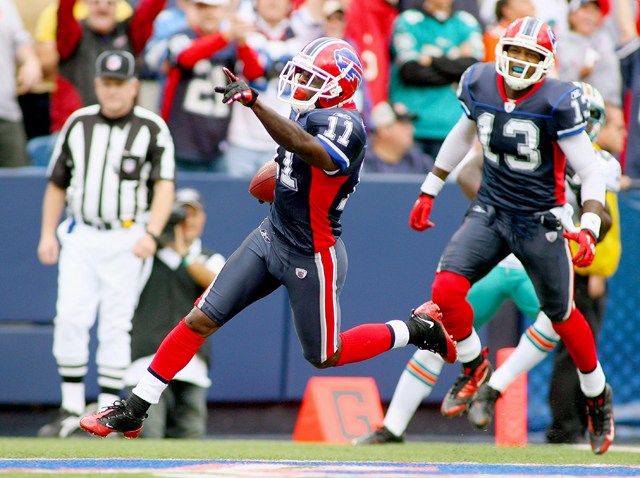 News broke yesterday morning that would-be free agent wide receiver Stevie Johnson signed a new contract with the Buffalo Bills. Johnson is an interesting test case for a possible new contract for DeSean Jackson because the two players are of similar age and ability.
ESPN reported the figures of the deal:
The Bills didn't disclose terms of the agreement, but a league source told ESPN NFL Insider Adam Schefter that Johnson received a five-year, $36.25 million deal that includes $19.5 million guaranteed and over $24 million in the contract's first three years.
That sounds like it would be a great deal for the Eagles. At the very least, it's a step down from last off season's market-setting deal that Santonio Holmes received from the Jets. The Holmes contract was also for five years, but reached $45 million with $24 million guaranteed.
So how close are Jackson and Johnson? Let's briefly compare them.
Both players are 25 years old. They both have four years of NFL experience and reach free agency as the top receiving threat on their respective teams. DeSean is more of a speedster, at only 5'10", 170 lbs, while Stevie is a more prototypical 6'2", 210 lbs. Their numbers over the last two seasons are similar, although they have different strengths:
We already know all about Jackson's big play ability, and Johnson can't measure up in yards per reception. But Johnson matched in total yardage because he catches significantly more passes per game. He's also a bigger threat in the redzone, with seven more touchdowns.
DeSean does have a better full resume than Johnson, since the Bills wideout didn't become a starter until 2010. Thus, despite his deficiency in some categories, I would expect Jackson could beat this contract, if only by a little bit. Still, it's a great marker by which both the Eagles and Drew Rosenhaus will have to adjust. Hopefully this deal will help bring the two sides closer together.