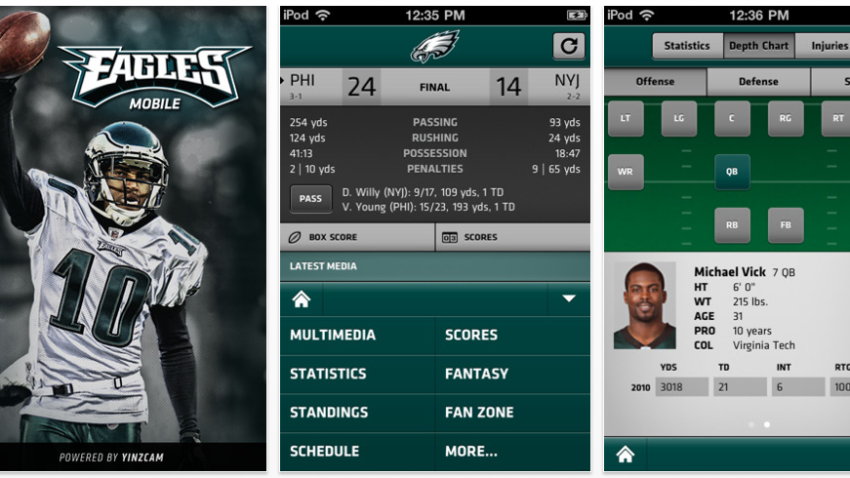 The Eagles are stepping up their digital game, making it easier for fans to follow the team however they decide. Already active on Twitter with the @Eagles and @EaglesInsider accounts and with over 1.3 million fans on the team's official Facebook page, the team is now taking to the mobile space. They launched a free new application for iPhone and Android devices earlier this month and plan to roll out a cheerleader swimsuit calendar app later this fall.
The Eagles Official Mobile App, developed by Pittsburgh-based Yinzcam, Inc., which creates in-game technology for sports franchises, received nearly 40,000 downloads in its first 10 days and is available in iTunes and the Android Market.
App features include real-time breaking news, video-on-demand clips of player and coach press conferences, photo galleries, podcasts, real-time stats, standings, a depth chart, a customized fantasy tracker, stadium concessions maps and more. For the social media crowd, "the app links to various social networking sites, such as the Eagles aggregated Twitter feed, one-click tweeting, Facebook posting, and game day check-ins with Foursquare and Gowalla," according to the official release.
Meanwhile, the cheerleaders are also going mobile. In early November, they will become the first squad in the NFL to launch a Swimsuit Calendar Mobile App. As posted on PhiladelphiaEagles.com, "this app takes the gorgeous Philadelphia Eagles Cheerleaders off the football field and puts them right into your hands…in bikinis! The cost is only $1.99 and includes a 12-month calendar, January 2012 – December 2012, with sexy bikini images and videos of all thirty-eight beautiful cheerleaders."