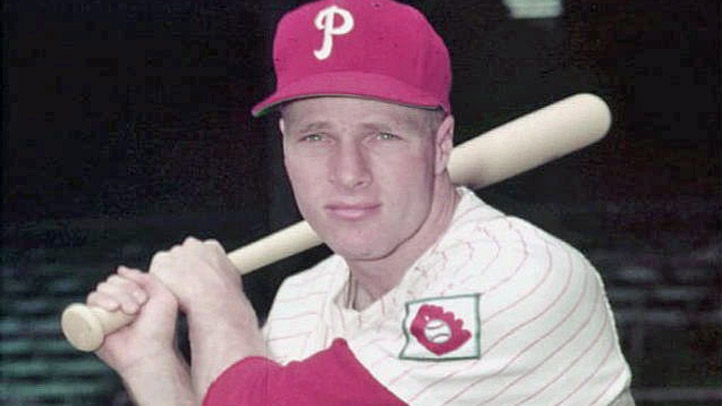 In the latest edition of just-for-argument's-sake countdowns, Ray Didinger -- a local sports icon in his own right -- released his "expert analysis" of "The 10 Most Beloved Philly Athletes of All Time."
The Top 10 list covering athletes who donned the jerseys of all four major sports teams was posted Tuesday to Philly Magazine's Philly Post blog.
Tops on Didi's list -- Phillies icon Richie Ashburn.
The pick is both logical and a bit controversial but Didi sums up why "Whitey" remains so beloved 15 years after his death.
"A Hall of Fame center fielder with the Phils; his broadcast partnership with Harry Kalas made him a beloved figure here for more than half a century."
Can't argue that but did Ashburn play so long ago that he no longer could be beloved? What about the fact that he never delivered any championship hardware to the City of Brotherly Love?
(I do realize I have virtually no right to question the great Didi but this is all in fun)
Two other Phillies made Didi's list as current Phightin Phil Chase Utley (No. 6) and Hall of Famer Mike Schmidt (No. 8) sandwich basketball great Charles Barkley (No. 7) -- that's a lot of sandwich middle.
Here is the rest of the "Beloved" list:

2 - Wilt Chamberlain
3 - Bobby Clarke
4 - Julius Erving
5 - Reggie White
9 - Chuck Bednarik
10 - Allen Iverson
Six of the 10 athletes raised championship trophies while playing in Philly with Ashburn, White, Barkley and Iverson the exceptions.
My No. 1 choice for most beloved Philly athlete actually didn't make Didi's list -- former Eagles safety Brian Dawkins. Maybe the fiercest Eagles in recent memory doesn't qualify because he currently plays for the Tim Tebow Broncos but ask anyone wearing a No. 20 jersey on Sundays who they will always love and B-Dawk will be their answer.
Of course Dawkins like Ashburn is sans-championship, flawed.
Maybe the flaws are what made Didi go with Ashburn and me with B-Dawk in Philly we just more naturally root for underdog, hardworking types.