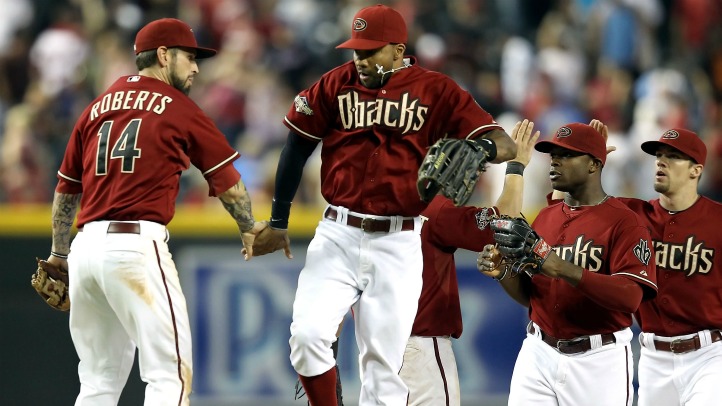 There reaches a point in a season like the one the Phillies are having when you start reaching for new angles to take while waiting for the playoffs to begin.
You debate yet another attempt to take Ryan Howard down a peg or try to figure out whether the Phillies should rest players instead of going full bore toward the finish line. You obsess over the 25th man on the playoff roster or engage in mindless conversations about whether Philadelphia is an Eagles town or a Phillies town instead of just accepting that it is a marvelous time to root for the city's teams.
Nothing's going to change the fact that the next six weeks are nothing but a prelude to the main event of the season so let's fully surrender ourselves, shall we? Up for debate on this fine Monday is the question of whether or not the Phillies should give everything they have toward beating the Diamondbacks this week.
If the playoffs started today, the Phillies would meet Arizona in the first round of the playoffs. As well as this season has played out in the desert, they look primed for the taking in a short series. They don't have the shutdown staff that can steal a series nor do they (or anyone else, really) have an offense that can threaten the Phillies rotation on a nightly basis.
That sounds like a pretty nice way to ease your way into October, especially when the alternative is Tim Lincecum, Matt Cain and the rest of the Giants. While there's surely a big part of everyone that would like to see the Phillies get revenge on the Giants for last year's NLCS, it probably pales in comparison to the part that wants to see the Phillies hoist the World Series trophy.
Crazy things can, do and will happen in the playoffs, but it is tough to come up with a case that makes the Diamondbacks more likely to stand in the way of that than the Giants. A young D-Backs team arriving ahead of schedule would be an easier opponent to face than a defending champion with the pitching staff that the Giants bring to the table.
So, in a peversion of everything we hold dear in sports, the Phillies might actually do themselves a disservice this week if they go out and pound Arizona into submission. The suggestion that they don't try to do just that was made with tongue in cheek -- as Herman Edwards once said, you play to win the game -- but the result might not wind up feeling quite as sweet as it normally does.
Copyright FREEL - NBC Local Media