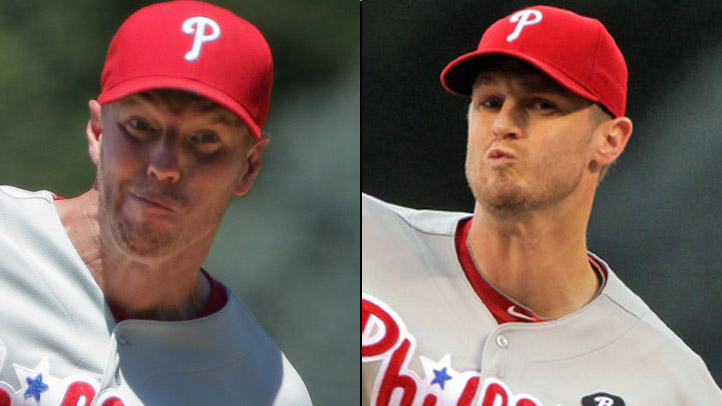 One of the things I love about baseball is the simplicity by which the game can be cataloged. We've got dozens upon dozens of statistics that reveal everything about the game, from the common stats, like batting average and RBIs, to the new wave of Sabermetric-based stats, like WAR and xFIP. There is a mountain of information out there that informs us on what happened, what is happening, and what can and will happen.
Another reason I love the game is because as much as baseball is tangible and able to be measured and distilled down to it's bare components, the exact opposite is true. It's a game of infinite possibility and is quite often unable to be quantified or explained or condensed down so that it fits nicely on the back of a baseball card.
That was never more true than on Wednesday afternoon in Colorado, when Phillies ace Roy Halladay looked (*gasp) mortal at the hands of the Rockies, who knocked Doc around to the tune of five runs (four earned) over seven innings, in which the reigning Cy Young winner, and all around best pitcher in baseball, allowed eight hits. It wasn't a terrible outing, by the standards of mere mortal pitchers, and Roy pitched well enough and got enough run support to get the win, but it was a far cry from what we are used to seeing from the ace.

If that wasn't strange enough for you, his start came on the heels of a sterling performance from spot starter Kyle Kendrick, who held the same Rockies at bay for eight shutout innings on Tuesday night, in which he set down a career-high eight hitters via strikeout, while allowing four hits and one walk. It was a most un-Kendrickian performance, as the right-hander is not so apt at punching out hitters or going deep into the games. That didn't stop him from having the game of his life, which is all the more unexpected considering it happened at Coors Field, a stadium whose thin air has the capacity to turn slap hitters into sluggers.
But that's part of the beauty of the game; the seemingly random events and occurrences that will never cease to simultaneously confound and surprise us. Statistics -- as useful and as encompassing as they are -- will never be able to capture the part of the game that lies in that gray area where normal is not the norm, where the laws of reality cease to exist. It's in that area where the ace won't go more than three innings, or where the light-hitting shortstop's bat somehow finds its way through the strike zone to pummel three homers in one game, or where the journeyman pitcher with a lifetime ERA north of 4.50 fights off reality as he carves his way through an opposing lineup that, by all means, should be sending him to the showers by the second inning.
It's a long season, and the seemingly impossible and unpredictable has a way of shoehorning itself into the goings-on of what we least expect it to create some sort of chaos that can unravel the thread of a single game, and the only thing that teams can do is hope it doesn't raise it's chaotic head in October.