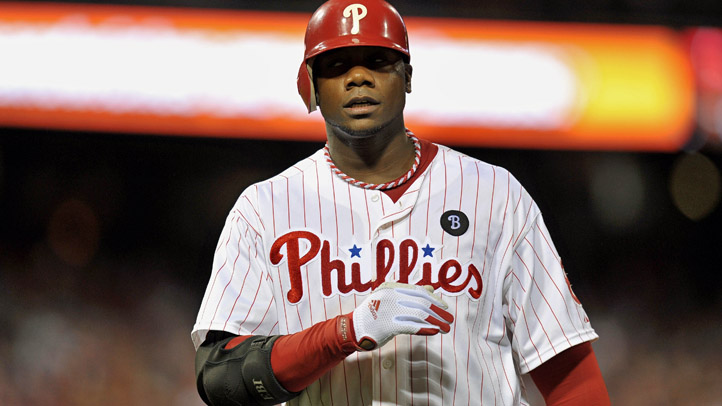 It's been a rough year for Ryan Howard.

Despite the game-winning single on Sunday afternoon to lead the Phillies over the Arizona Diamondbacks, it hasn't been a fruitful return to the big leagues for Howard, who has struggled mightily since returning to the Phillies near the beginning of July.

Coming off a significant ankle injury suffered in the last game of the NLDS in 2011, Howard was a non-factor for the first three months of the season, as he rehabbed his busted Achilles. And for a while, they seemed to get along without him, thanks to an offense that was hitting well enough to put the team in a position to win.

But as the season wore on, and as the Phillies found themselves falling out of contention, Howard – along with Chase Utley – appeared to be the only hopes that the team had in righting the ship. As such, Howard was activated about as quickly as the Phillies would allow it. After being given a clear bill of health, he started to rehab in earnest near the end of June, and after seven minor league games, where he hit .500/.577/.750 with one homer and 10 RBIs, he was activated from the disabled list and made his first start of the season against the Atlanta Braves on July 6th. He went 2-for-4 with a double in his debut.

Since then, it's all been downhill for the big man, who is hitting .208/.313/.403 on the season. He has four homers, nine RBIs, nine walks, and 30 strikeouts in 72 at-bats over 22 games.

He's only had three games in which he has not struck out at least once (that's not too surprising for Howard, but still jarring), but in his last 12 games, he's struck out a staggering 22 (!!) times. That's one strikeout per two at bats (if you round up), meaning that every other time he comes up to the plate, he's going to whiff. And in those last 12 games, he's logged multiple strikeout games seven times.

To put it mildly, that's bad. Really, really bad.

In all actuality, can we really be surprised by this? After all, the guy had surgery to repair a very significant injury to his load bearing ankle that he injured less than a year ago. Combine that with the fact that his minor league rehab assignment seemed very truncated, it's no surprise that he's struggling at the plate.

But what can he and the Phillies do? Nothing, really. Nothing but wait for him to level out and adjust his timing. It's not like he is a young pitcher or hitter who was called up too early, because they can get sent down to the minors to get themselves right. And even though the Phillies could technically send Howard back down, that's not likely to happen, at all. He's up here, he's presumably healthy, so he and the fans get to deal with this on a nightly basis until he can get his swing back.

Luckily for the Phillies, it's not like they need his bat in the lineup right now. Thanks to being out of the playoff race – barring some miracle of course – he has all the time in the world to get right. Hopefully it happens before April, 2013.