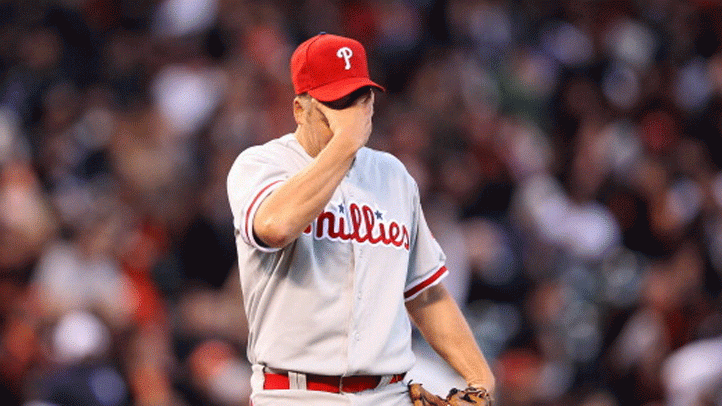 Coming into the 2012 season, Joe Blanton was an unknown quantity for the Phillies. Thanks to some nagging injuries over the last couple seasons, he couldn't be counted on to provide quality innings out of the starting rotation. And early on in spring training, there was a question as to whether or not Blanton would even be in red pinstripes, thanks to him potentially being shipped out of town via trade.
But that never happened, and Blanton started the season with the Phils. And boy, did he ever. After making his first appearance of the season out of the bullpen, the right-hander proceeded to go on one of the best runs of his career, racking up a 2.81 ERA in 48 innings over his next seven starts, where he struck out 35 while only walking seven.
From the looks of things, Blanton was making himself out to be one of the vaunted aces of the pitching staff. He wasn't giving up the long ball, he was striking guys out, and most importantly, he was putting the Phillies in a position to win games.
Phillies fans, forever wondering when the other shoe will drop, questioned whether or not Blanton was the real deal in 2012. It's a fair question to ask, because Joe hasn't exactly been a pillar of baseball success over his career. Despite the reputation as a guy who can provide quality starts and eat innings, he's got a career ERA north of 4.00.
And in his last start against the Boston Red Sox, it dropped. He allowed six earned runs in 4.1 innings, where he allowed four homers (he had allowed two all season prior to that game) and nine hits in the loss.
Ordinarily, one bad start does not a season make, so no big deal, right?
Well, tell that to the fans after Joe's performance on Thursday night in St. Louis, when he allowed seven earned runs in just over four innings. Despite being spotted to a six-run lead, Blanton let the Cardinals back into the game on 10 hits and two homers.
In the course of two games, Joe just about undid all the good from his previous seven starts. His ERA rose 1.59 runs in less than nine innings of work, going from to 2.96 to 4.55. That noise that you hear? That's the sound of his trade value plummeting.
Of course, it is only just two starts, and everyone can have two bad starts in a row, so there isn't too much reason to panic about his performance. Yet. If he can find his rhythm again and get back to what he was just two starts ago, then this is just one rough patch over the course of a long season.
But with Vance Worley hurting, the Phillies can't afford Blanton to go belly up. Otherwise, this long season could get even longer.