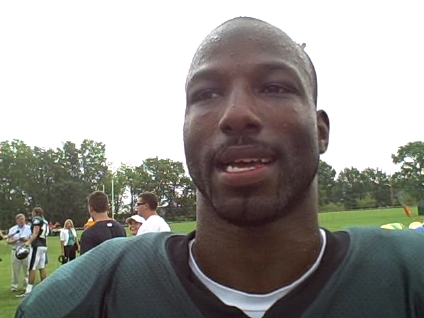 Eagles wide receiver Jason Avant is No. 3 on the Birds' wide receiving depth chart and he gives God all the credit.
The five-year veteran's belief in Jesus Christ drives everything he does.
"I'm pleasing to my teammates and everyone else because I'm living for him on and off the field," Avant said.
Eagles fans are pleased with how Avant has emerged as a trusted target. He went from catching just seven passes in the eight games he played during his rookie season to hauling in 41 passes while playing in all 16 games in 2009.
Avant credits his faith for leveling his expectations and his message could apply beyond the football field.
"In football everything is not going to go your way," the 27-year-old said. "When you're out there sometimes you may catch ten balls and sometimes you might catch zero."
He elaborated after a practice at Lehigh earlier this week.
"If your goal and your aim is to please him no matter if you catch ten, you praise God -- if I catch zero, praise God," the Michigan man said. "I'm still happy."
Avant plays football but he doesn't live it.
"The game doesn't dictate my happiness," Avant said with a smile. "Going out there and playing is fun but my happiness comes from (Jesus)."
Each day of Eagles training camp NBCPhiladelphia.com will focus on different Bird trying to soar at Lehigh.