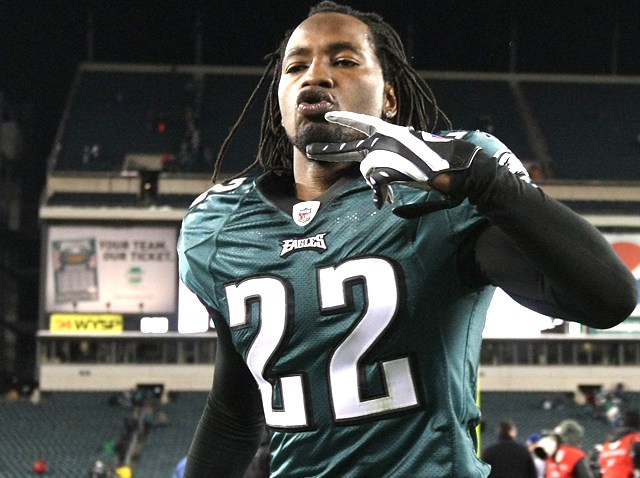 Paul Domowitch took a trip down to Atlanta to see his good friend and erstwhile foil Asante Samuel, who seems to be enjoying himself with his new team. It's hard not to love Samuel, who was always a straight shooter (if not as often a sure tackler) in Philadelphia.
Talking about his dissatisfaction with the Eagles front office last year, Asante explained how quickly he fell out of favor:
"When they first traded for DRC, I got a call from upstairs and everybody was excited. 'We got DRC. You and him are going to be great together.' Then, no sooner did they hang up then I got another call telling me they had signed Nnamdi (Asomugha) and that people were calling and wanting to trade for me. First, they said, 'You're not up for trade. Those are just rumors.' But at the end of the day, it was all a lie. They did have a trade on the table (at the October trade deadline). But it broke down at the last minute. So we just kind of played the season out, seeing how it went."
A year ago around this time I was praising Howie Roseman and company for pulling off the rapid series of stunning offseason moves. Only later did it become clear that despite all the planning they did to take advantage of the post-lockout free agency, the Eagles decision-makers had gotten too greedy. Dominique Rodgers-Cromartie and Samuel might have made a great one-two punch at cornerback. But adding Asomugha caused as many problems as it solved -- especially after they botched an attempt to trade Samuel.
It was stunning mismanagement. You can't take one of the most critical members of the team and first praise him, then try to trade him, then allegedly lie and try to piece the eggshell back together again. Phillies GM Ruben Amaro, Jr. has (rightfully) received plenty of flak, but at least when he pulled off the "trade for Halladay, trade away Lee" deals he was decisive. He didn't yank one of his star pitchers in and out of limbo.
Not only did that failure anger Samuel, it ruined his trade value. As a make-up gift, Reid let his Pro Bowl cornerback have some say in the trade decision:
"Coach Reid and I sat down and considered the options," he said. "He let me pick and choose where I wanted to go. This was the No. 1 place I wanted to go. There were a couple of other teams interested. But ultimately, this is where I wanted to be."
We know (or at least heard rumors) that Reid did the same thing for Donovan McNabb and Kevin Kolb. I'm not sure how practical it is for every player, but Reid's collaborative approach helps everyone leave the negotiating table happy -- a skill the team has sorely lacked in matters like this.