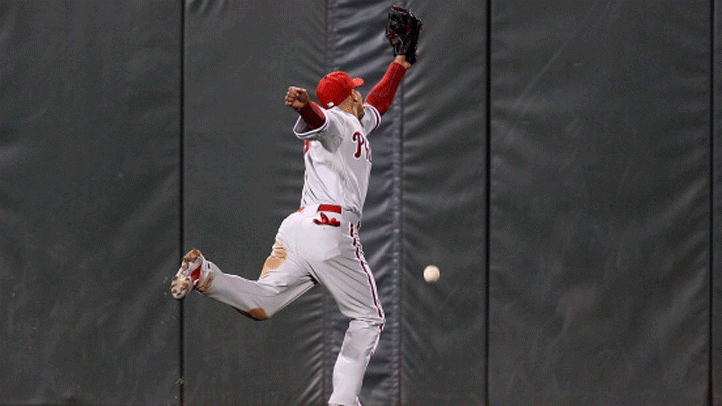 If you haven't been paying attention, things have not been going well for the Phillies. Unlike the last few seasons, when they were in the mix from the get-go, 2012 has been entirely different. They can't really hit, they can't really pitch, and they can't really put teams away in the late innings. It's the perfect storm of a season that is fast approaching "let down" status.

For that reason, they should really be thinking about the trade deadline. And not because they are going to trade for that player that will turn their season around, either. No, they need to sell.

You know, as a fan, I don't want them to sell. Why? Because it's baseball, and baseball is a weird sport where weird things happen. It's the same reason that the basement dwellers can sweep a juggernaut in a four game series. Things happen, teams get hot, and in just a few short weeks, the standings could be upside down.

And really, it's the middle of June, and there is an eternity of baseball left to get played. In a few short weeks, the Phillies will get Chase Utley and Ryan Howard back in the lineup. Roy Halladay will be back before too long, as well. Maybe they call up Dom Brown to add some more offense and a pair of bullpen arms to help at the end of the games. Before you know it, they have a respectable offense and a pitching staff that can go toe-to-toe with anyone.

But, there is another part of me, the non-fan part, who looks at this season as if it were a business, and that part of me wants them to sell, sell, sell. It's not that I don't want the Phillies will make the playoffs, it's just that it isn't particularly likely. They are running on fumes, they are banged up, and their reinforcements – whenever they arrive – might not be enough to take down the four teams that are ahead of them in the division. And those four teams? They aren't exactly lacking talent.

Given that, it's clear that the Phillies would be better off getting the most possible value out of their current roster, even if that means trading everyone in sight in an effort to rebuild the team. It's not like they aren't without attractive trade bait, either. Shane Victorino, Carlos Ruiz, Hunter Pence and Cole Hamels are all guys that could, and perhaps should, be moved before the deadline.

Sounds crazy, yes, but think about it: Victorino will be a free agent at the end of the season, and this is the best possible way to take advantage of the fact that he can provide solid offense and defense to a contending team.

Carlos Ruiz, who we all love, is playing out of his mind right now, and his value will never, ever be higher than it is right now. He's 33, and has a team option next season for $5MM, so any team that trades for him doesn't have a long term commitment to an aging backstop.

Hunter Pence, despite being one of the younger guys on the team, is going to get more expensive thanks to the arbitration process, and could be worth more to the Phillies if he was wearing another team's uniform.

Finally, Cole Hamels. He's the crown prince of the upcoming free agent class. A 28-year-old Ace who is only getting better. Pitching is the most valuable commodity in this game, and there are a ton of teams who could use an extra arm – especially one like Cole's – and would be willing to pay a pretty penny for it.

Perfect world, I'd prefer that the Phillies didn't trade Hamels (he'd be worth more to them with a long term contract), but they'd be doing themselves a disservice if they didn't at least see what they could get for him.

All told, the Phillies could clean up if they can trade all, or at least some, of the more attractive trade pieces at their disposal. Their farm system has taken a beating over the last few years, and aside from Domonic Brown, they don't have any Major League ready talent, so this is a great opportunity for them to reload.

And the thing is that the Phillies have enough money to play with that they can go out there any sign a couple free agents and still be competitive. Selling now does not mean that they are giving up the ship, it just means that they are putting themselves in the best possible position to stay competitive over the next few seasons.

Do the Phillies need to clean house and sell now? No, they don't, because there is still enough time for them to make a run at the postseason. But if Ruben Amaro and company want to right this ship – even if it means starting over – they should start sooner, rather than later.