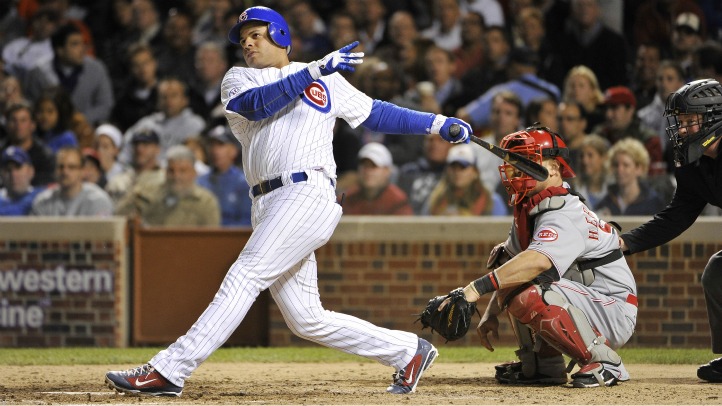 In the wake of the offense's failure to produce as desired in the playoffs, one spot that everyone targeted as a potential upgrade was third base.
Placido Polanco brings a high batting average and little else offensively, which meant that even Charlie Manuel was willing to suggest that the team look at other options at the hot corner. The biggest problem with any notion of making a splash at third was that there just weren't any obvious candidates on the free agent market that would make the Phillies offense more dangerous in 2012.
That problem was remedied on Sunday night when Aramis Ramirez declined his half of a mutual option worth $16 million with the Cubs and made himself a free agent. That puts an obvious offensive upgrade on the market for the Phillies to take a look at as they build next year's team.
Ramirez got off to a very slow start in 2011 -- two homers through the end of May -- but rebounded to turn in a season that was right in line with the best of his career. He hit .306, posted an 871 OPS and hit 24 homers over the final four months of the season. Those numbers rank among the best of all third basemen in the league and are head and shoulders over the other free agents on the market.
Is that enough to make him someone the Phillies pursue in November?
Those numbers speak for themselves offensively. Ramirez's bat would obviously play in the middle of the Phillies lineup, both if Ryan Howard is out of the lineup and if/when he is back after recovering from his Achilles injury. The addition of a big righty bat would also be nice for balance down the lineup.
Defensively, Ramirez is not as good as Polanco. He's not so much worse that the benefits of his bat would go away completely, but it is something that you would have to weigh before making any kind of bid for Ramirez's services as a free agent.
More daunting is Ramirez's desire for a long-term deal. He'll be 34 in June, which would make it possible that his age and salary would only add to existing problems on the roster in each of those areas.
If the Phillies were somehow given the chance to add the deal he opted out of, it would almost be a no-brainer to go all in and make Ramirez a Phillie. We don't live in fantasyland, though, and the thought of signing Ramirez for four years offers downsides that his bat can't erase.
Should the market for Ramirez fail to develop, maybe something changes but, for now, we don't see Ramirez winding up in Philadelphia.
Copyright FREEL - NBC Local Media