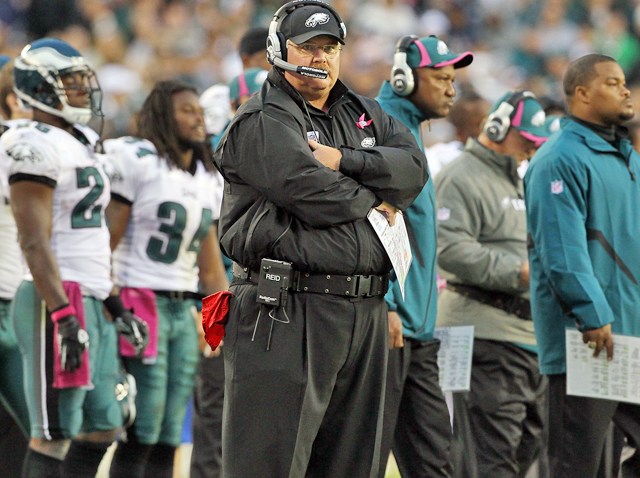 Despite the fact Michael Vick had to leave the game with an injury and the defense was repeatedly gashed by Redskins runners, in my opinion, the Eagles lost to the redskins 17-12 Sunday because of that sequence of events at the end of the first half.
At this point, it almost seems comedic and predictable what happened. I'll concede the refs didn't help. But, come on!
Look at what happened. Andy Reid and his coaching staff had six minutes to make a decision on a play and they choose one that they thought would work on fourth and inches. The refs gave the Birds a bad spot and Andy Reid freaked out, arguing with the ref, all the while the clock was ticking and Kevin Kolb suddenly had only 10 seconds to huddle his team and call the play.
Can't do it.
Five yard penalty.
Send in David Akers to kick a field goal. Blown opportunity. The latest moment in a long list of Reid's squandered chances with time management at the end of a half or a game.

It's a ridiculous. Even as they were driving down the field, I kept thinking, "how are they gonna screw this up?" Because, in my mind, they surely were gonna do it.

They called timeout with 30 seconds on fourth and inches and I figure, "OK, they QB sneak it and they head into the half trailing by seven -- no problem."

Instead, they take too much time on a 30-second timeout and the head coach argues a ball spot as the game clock is ticking -- leaving his QB no time to call the play and they're not able to call two consecutive timeouts. They painted themselves into a corner.

Game over.