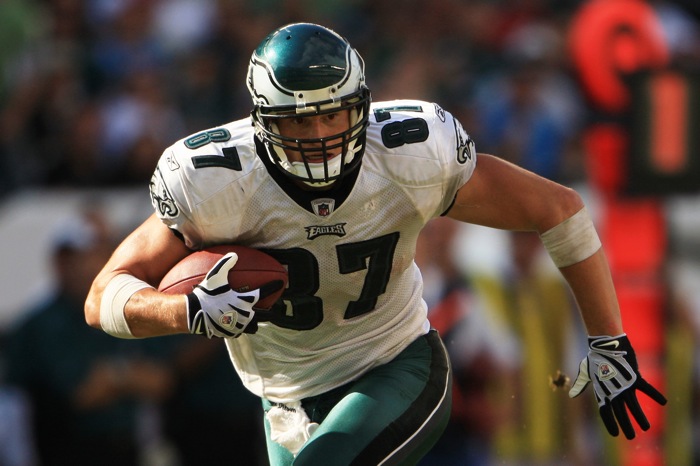 During Andy Reid's online chat with fans at Philly.com last week, he was asked a question, "What are you going to do differently this year so that Brent Celek gets involved more?" Andy's answer wasn't particularly revealing, as usual. He only said that the team needed to put "more emphasis" on the short to intermediate passing game.

I've already talked about Celek's disappointing season and have laid a large part of the blame on Michael Vick's shoulders. When Celek was running routes, he just wasn't being targeted as often. And throwing over the middle was where Vick was most inaccurate.
But the other side was just how differently the Eagles used Celek in 2010 from the previous season. His chances to go run routes as a receiver dropped and he was called on to pass block a lot more.
Take a gander at the table above. Celek was still a receiver most of the time, but his snaps as a pass blocker increased by more than half. Instead of blocking once for every six times he ran a route, Celek was a receiver only 3.4 times for every play of pass protection in 2010.
A number of factors contributed to this change in how the Eagles used Celek. The offensive line was having trouble, especially the right side with Winston Justice. However, it wasn't as though the Eagles were constantly trying to help out the offensive line. They had the seventh-least number of blockers per pass play in the NFL. Another problem was the loss of Leonard Weaver, who was a solid pass protector. He blocked more often and more efficiently than both LeSean McCoy and Brian Westbrook in 2009.
Someone had to pick up the pass protection slack. But, unfortunately, Celek is simply a bad blocker — and he didn't get any better with more practice. Look at the Pass Blocking Efficiency (PBE) statistic in the table above, calculated from PFF. It shows the total pressures allowed per blocking play. While Celek was alright in 2009, last year he was awful. He was the seventh-worst tight end in the NFL, yet the Eagles made him pass block more than all but four other players at his position.
That's insanity. Wide receivers are the focal point of the offense, but Celek should be a great weapon down the middle, helping to keep the defenses honest. Making him pass block more not only removes that asset, but actually makes Celek a liability.