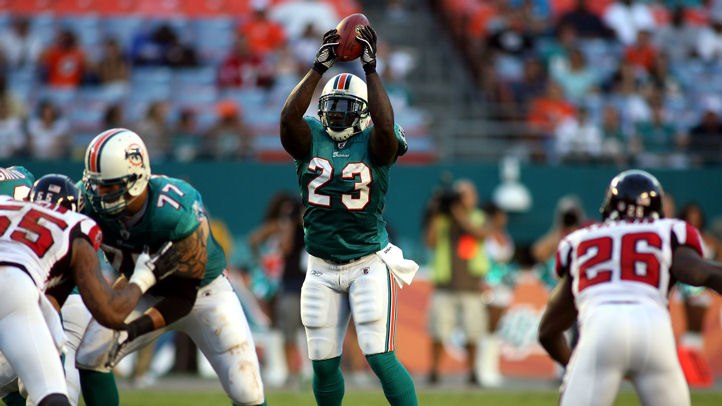 It was around this time last season when Andy Reid decided to trade running back Mike Bell away to Cleveland for Jerome Harrison. Harrison bolted to Detroit in the off-season, but apparently Andy Reid liked NOT using him so much that he decided to bring him back into the fold by trading away Ronnie Brown. From the Washington Post:
Maybe Ronnie Brown will have better luck with his Wildcat tendencies in Detroit. The Philadelphia Eagles, who acquired the running back in August, traded him to the Detroit Lions today. In return, the Eagles obtained running back Jerome Harrison and a 2013 seventh-round draft pick.
It was Brown, if you recall, who threw the World's Dumbest Lateral (trademarked by me!) at the goal line against the Niners, a game the Eagles went on to lose. Why Brown was allowed to carry the ball at that particular moment is a riddle whose answer is buried deep within the thick folds of Andy Reid's brain. No matter. Brown is now gone, replaced by Harrison. Like the Bell trade a year ago, this move doesn't seem to affect the Eagles in any major way. It's almost as if Howie Roseman did it just so he could feel productive this week. After all, the team failed to move out Asante Samuel, so perhaps this was a token move to make up for that.

Anyone who plays fantasy football no doubt remembers Harrison's insane closing stretch of 2009, when he ran for over 500 yards in the Browns' final three games and seemed in position to become Cleveland's bell cow. Then he ended up in Eric Mangini's doghouse, Peyton Hillis took over, and Harrison has been scrap ever since.

I'd like to think that Harrison's return to the Eagles suggests that Andy Reid, after seeing the Eagles play so well by running the ball a lot, has finally seen the light and wants an extra power back so the Eagles can run the ball 30 or 40 times a game. But I know better. You can daydream all you like about Shady getting 25 carries a game and Harrison getting an extra 5-10 carries on top of that, but that kind of sensible offensive strategy has long proven elusive to this coaching staff. Harrison's an Eagle again, but don't expect that to mean much.