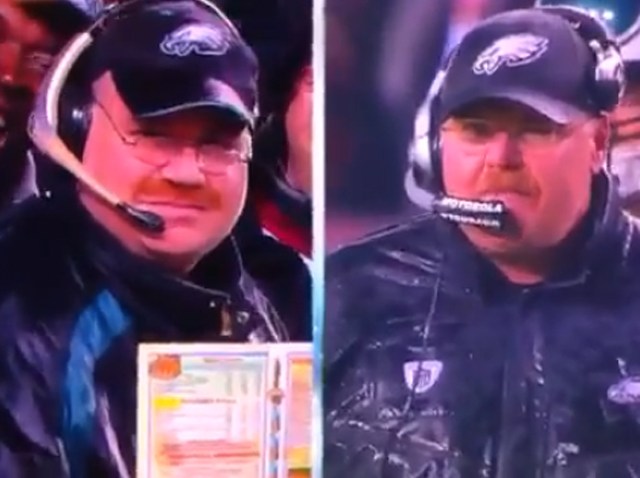 Football fans around the country noticed something strangely familiar looking in the stands during the Eagles Monday Night beating of the Redskins -- it was Andy Reid.
Well not exactly.
The real Big Red was still on the sidelines -- the guy shown next to him on the ESPN broadcast was Reid impersonator Steve Odabashian. (See video from MNF)
Odabashian, a lawyer by day and piano player at night, for nearly seven years now has been donning on and off the headset, red moustache and Eagles hat worn by Reid on game day. He launched his own YouTube channel and even teamed up with Forman Mills during the Eagles 2005 Super Bowl run -- earning him a trip to the big game (something he hopes happens again this season).
But his humorous ode to Andy is once again in the national spotlight. The dead-on impersonation drew the attention of the MNF guys and even had legs the next day as it was praised on Around the Horn and PTI. Odabashian's Reid impersonation is so dead on that it even earned 'A' grades from the PTI guys.
"I like what (PTI) did with it… sometimes people don't like it," Odabashian said.
The place where the impersonation strays from the real Eagles head coach is a hilarious touch that's in Odabashian's hands. Instead of Reid's signature multi-colored play card Odabashian carries around a pizza menu.
So I asked him -- where's that menu from?
It's from Fishtown Pizza.
But that doesn't mean that the pizza shop sponsors Faux Reid.
"I just happened to have it," he said. "I took it out of the menus in my kitchen."
Odabashian admitted he has only eaten at Fishtown Pizza a couple times but that the food was tasty.
He has used different menus over the year -- often turning to a new menu after losing the old one. If some restaurant, though, would like to sponsor Odabashian's menu in the future he would consider it, he said.
The menu is just part of the impersonation, which is meant to be in good fun. Odabashian has even met Big Red while in his get up and was surprised with how funny Reid is.
"He's always very nice... and really funny," Odabashian -- who over time has also come to appreciate Reid as a coach -- said.
So after all these years how does Odabashian feel about getting props for his impersonation? He was a bit surprised by his the national coverage following his MNF appearance but he was embracing it even if random people kept sending him friend requests on Facebook.
But just because everyone else is finally embracing his joke doesn't mean it's new to Odabashian.
"It's the same old joke to me," he said with a laugh.