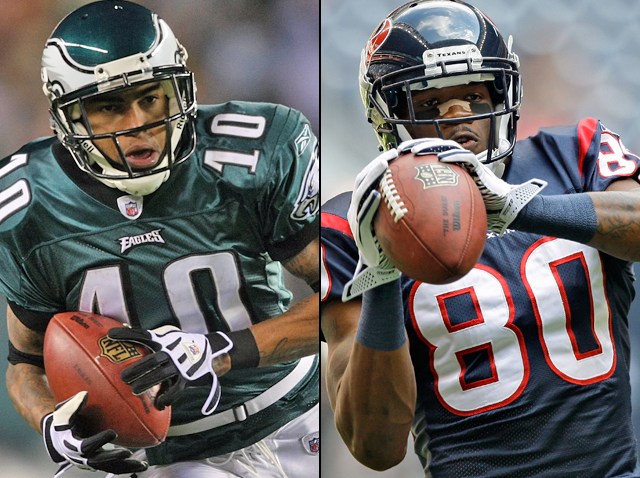 The best part about the NFL is that with games only once a week there is plenty of time in between for great debates.
That is except for this week when, on less rest than most Major League starters get on the regular, the Birds will clash with the Texans on Thursday Night Football.
There are plenty of great comparison battles in this game on both sides of the ball -- Michal Vick vs. Matt Schaub, Shady McCoy vs. Arian Foster, David Akers vs. Neil Rackers, Mario Williams vs. Trent Cole -- but per normal wideouts made much of the noise entering this game (even if one barely made a peep for 48 hours) so let's look at the battle of No. 1s -- Jackson vs. Johnson.
Let's go to the stats:
DeSean Jackson - Age 24 (It's his birthday Wednesday):
Eagles 2nd-round pick (49th overall) in 2008
1 Pro Bowl
2010 Stats:
35 receptions
678 receiving yards
98 rushing yards
6 total TDs (5 receiving)
19.4 yards per reception
3 100-yard games
Andre Johnson - Age 29
Texans 1st-round pick (3rd overall) in 2003
4 Pro Bowls
2010 Stats:
65 receptions
869 receiving yards
0 rushing yards
5 total TDs (all receiving)
13.4 YPR
4 100-yard games
Right off the bat Johnson is obviously the more accomplished career receiver -- he has more Pro Bowls (4) than seasons Jackson has played in the league (3).
Also let's call 100-yard games and total TDs washes since only one separates each receiver.
A.J., despite being tossed out of the Texans last game, is the more prolific receiver this season racking up nearly twice as many catches and nearly 200 more yards than D-Jax. He also has hauled in passes at an impressive clip for some time three times grabbing more than 100 passes and breaking the 1,000-yard plateau four times, with a fifth likely this season. D-Jax has never caught 100 balls and only last year broke 1,000 yards for the first time.
But the Eagles weapon has averaged an unreal 19.4 YPR and adds the element of the end around having dashed for nearly 100 yards on the ground compared to Johnson's goose egg. Basically where Johnson is a great possession wideout with the occasional big play threat, Jackson could blow the game open at any point with his blazing speed.
If I had to build a team right now, though, I would take Johnson. He is more polished than Jackson even if D-Jax has more upside. But A.J. is five years D-Jax's senior so in the long term I would grab Jackson -- or would I?
Jackson at 5-foot-10, 175 pounds looks like Mini Me next to Johnson's impressive 6-foot-3, 225-pound frame.
Let's just hope A.J. doesn't throw a haymaker, huh?
But just cause DeSean is tinier than many big time receivers doesn't mean he isn't just as tough as the bigger guys. In eight seasons Johnson has missed eight games (one game per season). Despite two concussions in three seasons, D-Jax has missed just two games (less than one game per season).
So maybe D-Jax is tougher than he might appear even if he sulked for two days after an alleged post-game tongue lashing by Andy Reid.
So decision time -- I would love both these guys (I lived that dream last year on my fantasy squad) -- but if I had to pick just one it would be D-Jax. Action Jackson has that special ability to change the game at any moment. I would deal with the occasional perceived diva moment and the fear that he might break and cross my fingers as I rode his lightning-fast legs for as long as possible.