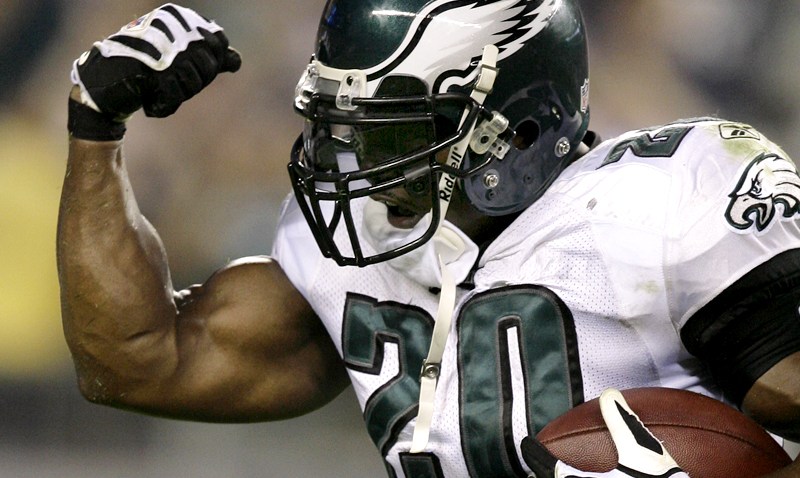 NFL Free Agency begins Friday and as of now the Birds have a slew of veteran contributors that may be ready to fly the coop.
The Birds resigned defensive back Joselio Hanson over the weekend -- otherwise the rest of their free agents remain unsigned and can test the open market after midnight.
The next few days could be key in figuring out what the Eagles want to do in the future. Will they try to keep a corps of vets like Brian Dawkins, Jon Runyan and Tra Thomas for one more shot at the Lombardi Trophy or will they retool and, dare I say, rebuild?
These guys bleed green -- B-Dawk, Runyan and Thomas have all played in a Pro Bowl and each has at least almost a decade of service in Philly.
Can the Birds really let these guys walk away?
The best scenario for now seems that Eagles brass could take quarterback Donovan (I'm signed for two more years but want a new contract anyway) McNabb's advice to get some offensive firepower. The key to that firepower is to protect D-Mac long enough to get the ball to whoever the Birds snag (calling T.J. Houshmandzadeh).
The Birds currently have two of the top offensive tackles in the NFL in Runyan and Thomas -- you gotta believe that D-Mac would love to have those two protecting his rear again next year, but as of now they remain unsigned.
Thomas spoke to Jody Mac on 950-ESPN about how strange it is that he won't be able to work out at the Eagles training complex as of Friday -- that seems to be a sign that a last-minute deal won't get done Thursday and that Thomas will test the market.
Thomas could be gone but what about the well-known Runyan?
"Big" John Runyan had microfracture knee surgery this off-season, which could raise a flag for a lot of teams thinking of trying to pry the 35-year-old out of Philly.
Runyan, though, has played hurt in the past and is a warrior who has started 213 consecutive games at a position known for the wear and tear it puts on a player.
He has deep ties to the Philadelphia area including his charity work -- add that to his injury concerns and it will be hard to see any other team making a big enough offer to pry Runyan away.
Another Bird who has many local ties that could make it hard for him to fly the coop is Dawkins.
The safe bet is that the Eagles won't let their longest-tenured player walk away to hit elsewhere. The Birds are believed have already offered Dawkins an offer that the safety and his agent are considering, according to a report on Philly.com.
So, for now, it's a waiting game for the vets, the Birds and Eagles fans.
Who will spread their wings and fly away? Let us know what you think below.
---
Here is the list of other notable unsigned veteran contributors from the 2008 Birds:
Tight End L.J. Smith (as good as gone)
Running back Correll Buckhalter (will test the market)
Safety Sean Considine (he made nice contributions on special teams)
Here is the list of players given one-year contract offers by the Eagles on Thursday:
Wide receiver Hank Baskett (a.k.a. the soon-to-be Mr. Girl Next Door)
Offensive lineman Nick Cole
Linebacker Tank Daniels